What Damages Can You Recover After A Motorcycle Accident?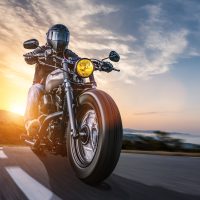 Motorcycle accidents tend to have particularly catastrophic consequences, resulting in devastating injuries and significant property damage, almost always for the motorcycle rider. How much an accident victim can expect to recover after a motorcycle crash depends on his or her specific losses, but successful claimants can expect to recover compensation for their medical bills, lost wages, property damage, and even their pain and suffering.
The Cost of Necessary Medical Expenses
Diagnosing and treating accident-related injuries is one of the most expensive parts of recovering after a motorcycle crash. Fortunately, these costs can be recovered from at-fault parties who cause crashes. Compensable healthcare expenses could include the cost of:
Ambulance transportation;
Emergency care;
Diagnostic imaging scans and lab tests;
Prescription medications, including antibiotics and pain medications;
Surgical procedures;
Hospitalization; and
Physical therapy and mental health services.
It's also not uncommon for medical expenses to rise as a person's recovery progresses. By working with an experienced attorney, a person can evaluate and attempt to recover not only past and current medical bills, but also future costs.
Income Losses
Motorcycle accident injuries tend to be serious, as riders don't have the benefit of seat belts and airbags, or even a barrier between themselves and the road. For this reason, accident victims are often unable to work for weeks, months, or even years after a crash, which can make it difficult, if not impossible to stay on top of household expenses and other bills. Fortunately, claimants who can prove that their accident was the result of someone else's negligence, could be entitled to damages compensating them for wages they were unable to earn while they recuperated, as well as lost benefits, like retirement contributions, bonuses, tips, and freelance contracts. In cases of permanent disability, injured parties could also recover compensation for future lost income.
Property Damage Expenses
It is not uncommon for the much smaller motorcycles to sustain significant damage in an accident with another vehicle. However, successful claimants can recover damages to cover the cost of repairing that damage. In the event of a total loss, a rider could even be entitled to the amount necessary to replace the motorcycle entirely.
Pain and Suffering
Most of the damages that an accident victim can collect, including reimbursement for medical bills, lost wages, and property damage fall under the category of economic damages, or losses that are relatively easy to calculate. Some accident victims, however, could also be entitled to what are known as non-economic damages, which compensate victims for losses that are more difficult to quantify, like the physical pain and suffering experienced as a result of an injury. In addition to pain and suffering damages, a victim could also be entitled to compensation for disability, emotional distress, and scarring or disfigurement.
Call Our Atlanta Motorcycle Accident Law Firm Today for Help
The dedicated Atlanta motorcycle accident lawyers at Shiver Hamilton Campbell can guide you after an accident, helping you seek compensation for your losses, while you focus on your recovery. Begin your free case review by calling 404-593-0020 today.
Sources:
ncbi.nlm.nih.gov/pmc/articles/PMC3217482/
georgiacourts.gov/wp-content/uploads/2019/09/Apportionment-of-Damages-Terry.pdf