Signs Of Distracted Driving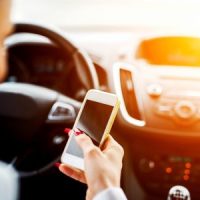 Most of us have seen it, and some of us may have engaged in it, but at the end of the day, the truth is that distracted driving is extremely dangerous not just for the driver of the vehicle in question, but for anyone else on the road. Unfortunately, distracted driving is one of the most common causes of car accidents in the U.S. Below, we'll discuss some common signs of distracted driving that can help give you a better chance of avoiding a collision.
Types of Distracted Driving
Distracted driving activities typically fall under one or more of the following three categories:
Visual distractions, which happen when a driver takes his or her eyes off the road;
Manual distractions, which occur when a driver takes his or her hands off the steering wheel; and
Cognitive distractions, which occur when a driver takes his or her mind off the task of driving itself.
The most dangerous forms of distracted driving, like texting while driving, are so perilous because they fall under all three categories, taking a driver's eyes off the road, hands off the wheel, and mind off of driving.
Look Out for These Signs of Distracted Driving
It's not always possible to tell when a driver is distracted, but there are a few signs that motorists can keep an eye out for and that will thereby reduce their chances of being involved in a collision. These signs include:
A bent or hunched over posture, which could indicate that driver is trying to reach something on the floor or in the glovebox;
Looking over his or her shoulder into the backseat, which could be evidence of a driver overseeing children or pets and therefore, failing to remain focused on the road;
Chewing or even holding food or a drink in his or her hands;
Failing to maintain a consistent speed, which can be evidence of a driver's lack of focus on the road and the speed limit;
Personal interactions with other people in the car, like in-depth conversations or looking after a child;
Looking down or the glow of a screen, which could be evidence of a driver looking at his or her phone and may be more obvious at night; and
Hitting the brakes frequently and suddenly, which could be indicative of a driver who is failing to pay attention and must slam on the brakes at times because he or she missed traffic slowing down.
If you noticed a driver engaging in one of these activities and believe that he or she was distracted at the time of a crash, you could be entitled to compensation for your accident-related losses, including medical expenses, lost wages, and property damage. Consider reaching out to an Atlanta car accident lawyer to learn more.
Reach Out to Our Savannah Car Accident Lawyers
At Shiver Hamilton Campbell, our experienced and compassionate Savannah car accident lawyers are dedicated to providing our clients with the highest quality legal advice. Give us a call at 404-593-0020 today to set up a free consultation.
Sources:
cdc.gov/transportationsafety/distracted_driving/index.html
nhtsa.gov/risky-driving/distracted-driving