Airbag Deployment Injuries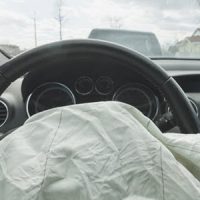 Rapidly inflating when sensors detect an accident and shielding occupants from the most severe impacts, airbags are essential safety features in modern vehicles. When they work like they're supposed to, they reduce the severity of injuries and can even save lives. Unfortunately, they don't prevent all injuries and in some cases, may even cause them.
How Airbags Work
Airbags are basically inflatable cushions that are installed in strategic compartments inside vehicles. The systems have sensors that are designed to detect crashes and then transmit a signal, causing the airbags to inflate. Some systems can even calculate exactly when to deploy based on whether a vehicle's occupants were wearing seatbelts. For instance, some airbag systems are set to deploy at lower speeds for unbelted occupants and at lower speeds for those who are wearing seatbelts. Front airbags have been mandatory in all new vehicles since 1999. Side airbags, while not legally mandated, are installed in most vehicles and help protect the head and chest. Other recent airbag innovations include:
Rear window curtain airbags, which protect backseat occupants;
Far-side airbags, which stop front passengers and drivers from colliding with each other upon impact;
Inflatable safety belts, which reduce the risk of back seat chest injuries; and
Knee airbags, which distribute the force of impact on someone's legs during a collision.
There is little argument when it comes to the effectiveness of airbags. Front airbags, for instance, are thought to reduce driver fatalities by almost 30 percent in frontal crashes, while side airbags reduce the risk of driver fatality in side-impact collisions by 37 percent in passenger cars and more than 50 percent in SUVs. Unfortunately, their use also comes with some risks.
Common Airbag Injuries
Airbags deploy at an incredibly high rate of speed, usually within 1/20th of a second. Unfortunately, this means that occupants can suffer certain injuries when they come into contact with the airbag, including:
Facial injuries;
Traumatic brain injuries (TBIs);
Internal injuries;
Neck and back injuries;
Friction burns;
Chemical burns; and
Abrasions and lacerations.
Symptoms of these injuries include everything from abdominal pain, neck and shoulder pain, headaches, dizziness, and a numbness or tingling in the extremities.
Protecting  Yourself From Injury
Airbags can prevent, but also cause serious injuries. There are, however, a few ways to reduce your chances of suffering such an injury, including:
Ensuring that your chest is at least ten inches from the center of the steering wheel;
Refraining from resting your arms, legs, or any other body part against an airbag compartment;
Refraining from purchasing aftermarket covers for your dashboard and seats, as the material can redirect or even stifle an airbag's deployment; and
Ensuring that young children sit in the rear seats.
While airbags can prevent injuries, they can also cause them, so if you were injured by an airbag, either because it failed to deploy properly, or just because the accident was particularly severe, be sure to speak with an experienced attorney, as you may qualify for compensation.
Call Today for Help with Your Case
To speak with a dedicated Atlanta car accident lawyer about seeking compensation for an airbag injury, call Shiver Hamilton Campbell at 404-593-0020 today.
Sources:
iihs.org/topics/airbags
nhtsa.gov/equipment/air-bags