A Typical Georgia Truck Accident Investigation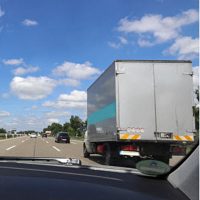 A thorough investigation is almost always required any time a large commercial truck is involved in an accident. These investigations allow the parties to discover not only the cause of the crash, but who is financially liable for any victim's medical bills or losses. Trucking companies and their insurers often try to minimize or deny liability for truck crashes, even when they are clearly at fault, making it especially important for accident victims to reach out to an experienced attorney for help holding a negligent trucking company accountable for its actions.
Preserving Evidence
One of the most important parts of a truck accident investigation is preserving evidence that could be relevant to the case. Critical evidence could include:
Photos from the accident scene;
Recordings from security and traffic cameras;
Interviews with witnesses;
Vehicle damage reports; and
The police report created after the crash.
Time is of the essence when collecting this evidence, so it's a good idea to speak with an attorney as soon as possible about what steps need to be taken to preserve it.
Assessing Truck Driver Qualifications
The Federal Motor Carrier Safety Administration (FMCSA) requires trucking companies to keep records of their drivers' qualifications in their files. Generally, these files must include:
A copy of each driver's commercial driver's license (CDL);
The driver's employment application, which must contain certain information, including details about the applicant's driving experience, exam results, and the type of driving he or she can engage in;
The applicant's Motor Vehicle Record (MVR) from each state where the driver was licensed in the last three years;
A record of any violations committed by the driver in the last year; and
A Department of Transportation (DOT) medical examination certificate.
This information can help investigators determine whether a driver was properly qualified or trained to drive a commercial vehicle, and whether he or she had a history of violations or collisions that could be relevant to the current accident.
Accessing Information from Data Recorders
Commercial trucks are often equipped with Electronic Data Recorders (EDR), which record crash event data, such as vehicle speed, acceleration, and braking. These kinds of details can play a critical role in proving whether a truck driver contributed to or caused a crash. Many drivers also use electronic logging devices to automatically record their work status. These recorders show how long a driver worked each day and the last time he or she took a break, which can help establish whether a driver was fatigued at the time of an accident.
Reviewing Trucking Company Records
Finally, when investigating the cause of a Georgia truck accident, an experienced legal team will look at the trucking company's records, including their policies and procedures. For instance, hiring records can help establish whether a company had a history of hiring unsafe drivers or of failing to conduct adequate background checks. Similarly, dispatch instructions can be used to determine whether the company was incentivizing or encouraging unsafe driving practices, which could have contributed to the crash.
Set Up a Free Consultation Today
To speak with one of the dedicated Atlanta truck accident attorneys at Shiver Hamilton Campbell about starting an investigation into the cause of your own truck accident, feel free to call us at 404-593-0020 today.
Sources:
fmcsa.dot.gov/sites/fmcsa.dot.gov/files/2021-05
nhtsa.gov/research-data/event-data-recorder