Motorcycle Accidents – Why Do They Happen?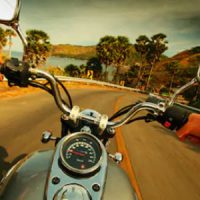 All vehicle accidents are dangerous and have the potential to cause serious and potentially deadly injuries. This is especially true, however, in collisions that involve motorcycles, which don't offer riders the same protections that passenger vehicles provide. Even riders who wear helmets can end up with catastrophic injuries. Like any type of vehicle accident, these kinds of collisions can happen for a variety of reasons, but most are the result of driver error.
Failing to Yield
Failing to yield is responsible for a large number of car accidents in general, especially when a vehicle is making a left turn. In fact, the National Highway Traffic Safety Administration (NHTSA) estimates that around 22 percent of car accidents involve a failure to yield on a left turn. These kinds of crashes are fully the result of driver error, either because a left turning vehicle misjudged the distance of an oncoming vehicle, or because the oncoming vehicle was speeding. In other cases, a failure to yield could be the result of inattention or a traffic law violation (like failing to obey a traffic light). Whether the motorcycle rider is the one making the left hand turn or is the oncoming vehicle, the impact is almost always catastrophic.
Speeding 
According to the NHTSA, speeding and driving too fast for the conditions are involved in almost 30 percent of all fatal traffic accidents. This includes motorcycle accidents, where speeding is often a contributing factor. In addition to making it harder to control the vehicle (and so avoid a potential collision) traveling at high speeds also makes it more likely that the injuries sustained in a crash will be more severe. Higher speeds means more significant impacts, which for motorcycle riders, increases the chances of suffering a catastrophic injury, like a traumatic brain injury (TBI) or internal injury.
Violating Traffic Laws
Violating traffic laws, while always dangerous, can have more severe repercussions for motorcyclists, who are more likely to suffer a serious injury in the event of a collision. Running a red light at an intersection, for instance, could prove deadly if a  motorcycle rider is traveling through at the same time. 
Following Too Closely
Although motorcycle riders have the same rights as any other road user in Georgia, they are not often treated with the same respect as other drivers. Many motorists fail to give them enough space or don't remember to check their blind spots. Another big problem is following too closely, which can be very dangerous when the vehicle being followed is a motorcycle, as the rider will most certainly be thrown from the vehicle in the event of a rear-end collision.
 Speak with an Experienced Atlanta Motorcycle Accident Lawyer
At Shiver Hamilton Campbell, our dedicated and compassionate motorcycle accident lawyers are here to help with your accident claim. If you were hurt in a motorcycle accident through no fault of your own, call our office at 404-593-0020 or send us an online message and a member of our legal team will help you set up a free initial consultation.
 Sources:
crashstats.nhtsa.dot.gov/Api/Public/ViewPublication/811366
nhtsa.gov/risky-driving/speeding#:~:text=Dangers%20of%20Speeding,-TRAFFIC%20SAFETY%20FACTS&text=For%20more%20than%20two%20decades,29%25%20of%20all%20traffic%20fatalities