Common Road Hazards Encountered by Motorcycle Riders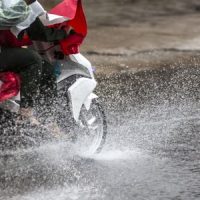 Operating any kind of vehicle on our nation's roadways is a dangerous prospect. Those who ride motorcycles, however, face even more risks than the average motorist, as these kinds of vehicles are less stable than standard passenger vehicles and more difficult to see. Furthermore, riders lack the protection of a metal frame, which means they are not only more prone to injury in the event of an accident, but are more at risk when encountering a road hazard.
Rough Roads 
Even the most experienced rider could end up involved in an accident because of a road hazard. Rough or bumpy roads, for instance, whether caused by disrepair, resurfacing efforts, or ongoing construction work can easily cause a rider to lose control of his or her motorcycle. Potholes have proven especially dangerous to riders, who could easily be thrown from their vehicles when they hit one.
Wet Surfaces 
Driving on wet roads isn't ideal for any motorists, but is much more dangerous for motorcyclists. With only two tires, motorcycles lack the same traction as passenger vehicles and, as they are so much lighter and less stable, it is much easier for riders to lose control. The addition of mud and oil on the road heightens the danger even further, increasing a rider's chances of sliding out or causing a crash.
Railway Crossings 
Railway crossings aren't really something that most motorists think of as a road hazard. Motorcyclists, however, must remain very aware when approaching these areas. The tires of a motorcycle can become lodged between the tracks and the metal rails can be slippery for the less stable motorcycle, especially when it's raining. It is not uncommon for motorcycle riders to be thrown over their handlebars when encountering an obstacle like a railroad crossing.
Wildlife 
While it's not pleasant, hitting a small animal while driving in a vehicle rarely puts the driver at risk. Striking an animal while riding a motorcycle, however, can have catastrophic consequences for riders, as even small obstacles can cause a rider to lose control. Furthermore, attempting to swerve out of the way of such an animal doesn't guarantee a rider's safety, but could end up causing a worse accident if the motorcycle collides with another vehicle.
Gravel 
Of all the many risks that motorcycle riders have to navigate, the presence of gravel is one of the most dangerous, especially when a road is curving. Gravel can cause a rider to lose control of a motorcycle, skidding out and endangering the rider and other motorists on the road. Although it's hard to predict where there will be gravel on the road, it's important to note that accidents involving this substance almost always go hand in hand with speeding.
Atlanta Motorcycle Accident Attorneys 
It's not always possible to avoid road hazards, especially for motorcyclists. If you were injured in an accident because of loose gravel, a pothole, or a road in disrepair, please call the dedicated Atlanta motorcycle accident lawyers at Shiver Hamilton Campbell for help filing a personal injury claim. You can reach us at 404-593-0020 or via online message.
Sources: 
one.nhtsa.gov/people/injury/pedbimot/motorcycle/00-nht-212-motorcycle/environmental53-54.html
kold.com/2023/05/11/police-motorcyclist-dies-after-hitting-pothole-crashing/