Highway Motorcycle Accidents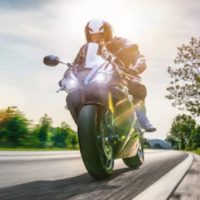 Highways, due to their higher speed limits and the presence of an increasing number of commercial trucks, have become a lot more dangerous in recent years. This is not only true, however, for those who drive passenger vehicles. For instance, motorcycle riders, who are far less visible than other motorists and much more vulnerable in the event of a collision are more likely to be fatally injured in an accident than any other motorist. Read on to learn more about some of the most dangerous interstates in Georgia and the recovery options for those who are injured in highway motorcycle accidents.
Dangerous Atlanta Highways 
There are a lot of highways throughout the state of Georgia, but some of the busiest (and most dangerous) are located right here in Atlanta, including:
I-285, which connects three major highways and is known as one of the most dangerous interstates in the country;
I-20, which, as the main east-west interstate in Georgia sees some of the worst traffic in the state; and
I-75, which runs concurrently with the I-85 and with its higher speed limits, also poses a very real risk to all motorists.
Despite recent efforts to improve road design, add more lanes, and increase restrictions for commercial drivers, these highways remain extremely dangerous for all motorists, including motorcyclists.
Highway Accidents are Often Severe 
Because the speed limits on Georgia highways are so much higher than those on local roads, the accidents that occur on interstates tend to be more severe. There is also more traffic on many of the interstates that pass through Atlanta, which makes regular multi-car pile-ups almost inevitable. Unfortunately, like speeding-related accidents, collisions that involve multiple vehicles are notorious for causing particularly serious injuries, with victims forced to suffer through multiple impacts, often from differing directions.
These dangers are heightened even further for motorcyclists, who lack the basic protections afforded by the frame of a passenger vehicle. As a result, riders are much more likely to sustain catastrophic injuries, including everything from traumatic brain injury (TBI) and amputations to spinal cord injuries and road rash. Some of these injuries, even when treated, leave victims struggling with chronic pain and disability for years to come. In the even more tragic cases, a motorcyclist's injuries could end up being fatal.
Let an Experienced Atlanta Motorcycle Accident Lawyer Help With Your Case 
Although afforded the same rights as any other road user, motorcyclists often go overlooked or are ignored outright, which can have devastating consequences for the rider. Fortunately, injured motorcyclists who can prove that their accident was the result of someone else's negligence are often entitled to monetary compensation for their medical bills and other losses. Filing a claim can, however, be complicated, so if you or a loved one were hurt in a Georgia motorcycle accident, don't hesitate to call the dedicated Roswell motorcycle accident lawyers at Shiver Hamilton Campbell for help. You can schedule a free consultation by calling our office at 404-593-0020 or by submitting one of our brief online contact forms.
Sources: 
fox5atlanta.com/news/study-finds-georgias-most-dangerous-roads-are-in-metro-atlanta
11alive.com/article/news/georgias-deadliest-road/85-49054fbb-62fb-4770-9c56-38460348af3b