Navigating Back to School Traffic in Georgia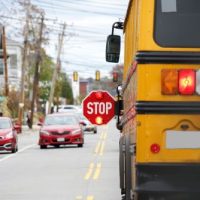 With fall just around the corner, students across the state are making their way back to the classroom. With the focus on buying new school supplies and preparing for another academic year, many people forget that back to school season also comes with a fair amount of traffic, especially in and around school zones. Unfortunately, this also means that a person's chances of being involved in a car, pedestrian, or bicycle accident also go up during these months. We've included a few tips to help you plan for these changes in advance and keep your stress levels and risk of being involved in a car accident at a minimum.
Back to School Traffic 
With the school term officially underway, Atlanta residents can expect to see a significant increase in the number of vehicles on our city's roads, with parents and school buses dropping off and picking up thousands of children. Many older children also walk or bike to school. This influx of vehicles, cyclists, and pedestrians can lead to increased traffic, longer commutes, and a much higher probability of being involved in a traffic accident. This is especially true during peak hours, like the mornings and afternoons during drop-off and pick-up time. These risk factors make it extremely important for Atlanta residents to carefully plan their routes and engage in a few basic safety precautions.
Tips for Beating the Back to School Traffic 
There are a few steps that motorists can take to beat the back to school season traffic, such as:
Leaving a buffer of an extra 15 to 20 minutes for their trips;
Joining a carpool, which lowers the number of vehicles on the road;
Using public transit during peak hours;
Using navigation applications that provide current traffic conditions and can suggest the quickest route; and
Avoiding school zones when possible, especially during pick-up and drop-off times.
Of course, it's not always possible to carpool, use public transportation, or avoid school zones (especially for those who are actually driving children to and from school). In these cases, there are a few safety tips that can help drivers avoid being the cause of an accident, including:
Following school zone speed limits;
Remaining extra vigilant for children crossing the road;
Keeping an eye out for school buses and being sure to stop for any that are loading or unloading passengers; and
Avoiding distractions.
While taking these steps doesn't guarantee that a person won't be involved in a car accident, it can go a long way towards keeping road users safe during back to school season.
Call to Set Up a Free Consultation
 If you were injured in a car accident, cycling accident, or pedestrian accident in or near Atlanta and have questions about your legal options, don't hesitate to call Shiver Hamilton Campbell at 404-593-0020 for help. You can speak one-on-one with one of our experienced Savannah car accident lawyers about the ins and outs of filing a car accident claim in Georgia.
Sources: 
ops.fhwa.dot.gov/publications/mitig_traf_cong/mitig_traf_cong.pdf 
nhtsa.gov/school-bus-safety/keeping-children-safe