Whiplash Injury Compensation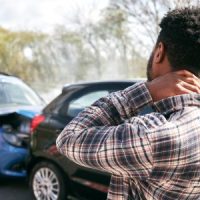 Of the many types of injuries that car accident victims can sustain, whiplash is one of the most common. These injuries can leave accident victims suffering from significant pain, limited mobility, and reduced range of motion. Fortunately, it is possible for injured parties who can prove that their whiplash injury was the result of someone else's negligence, to seek compensation for their diagnosis and treatment.
What is Whiplash? 
Whiplash injuries occur when a rapid, forceful movement of the head forces the neck backwards and forwards, stretching the muscles, ligaments, and tendons in the neck. The symptoms for this kind of injury are wide ranging, but the most common include:
Pain and stiffness in the neck;
A limited range of motion in the neck;
Pain with movement;
Dizziness;
Headaches, usually at the base of the skull; and
Numbness or tingling in the arms.
The symptoms of whiplash can often mimic those of a concussion and in fact, these injuries often go hand-in-hand when an accident victim also strikes his or her head. It is not uncommon for an accident victim who is suffering from whiplash to also experience blurry vision, a ringing in the ears, insomnia, and difficulty focusing.
Whiplash Grading System 
The severity of the symptoms experienced by a whiplash victim will depend largely on the grade of whiplash from which he or she is suffering. The four grades are as follows:
Grade 1 whiplash, which is characterized by stiffness and tenderness;
Grade 2 whiplash, which is characterized by severe pain and signs of musculoskeletal injuries;
Grade 3 whiplash, which is characterized not just by pain, but also by physical impairment; and
Grade 4 whiplash, in which victims are more likely to suffer from neurological problems, severe pain, and dislocation or fracture.
The cost of diagnosing and treating whiplash will generally increase along with the severity of the injury. Accident victims who suffer from Grade 4 whiplash, for instance, can expect to face hefty medical bills to cover the cost of diagnosing the injury and attempting to repair it, which may require surgical intervention.
Recovering Whiplash Damages 
When attempting to determine how much a whiplash victim can recover in damages following an accident, it is important to take a number of factors into consideration, including the severity of the injury and how long the victim is expected to experience the effects. Some whiplash injuries, for instance, heal within a few weeks with rest, while others could leave a victim suffering from chronic pain for years to come and require surgery and physical therapy. In these cases, injured parties could be entitled to compensation for their hospital visit, the cost of surgery, rehabilitative services, and medications. Those with severe whiplash who are unable to work while they recover could also obtain reimbursement for their lost wages.
Call Today to Set Up a Free Case Review 
If you sustained a car accident-related whiplash injury, you could be eligible for compensation and having an experienced attorney on your side could improve your chances of filing a successful claim. Call Shiver Hamilton Campbell today to speak with one of our dedicated Savannah car accident lawyers about your legal options.
Sources: 
mayoclinic.org/diseases-conditions/whiplash/symptoms-causes/syc-20378921#:~:text
ncbi.nlm.nih.gov/pmc/articles/PMC4913120/#:~:text=