Where are Cars Most Likely to Hit Pedestrians?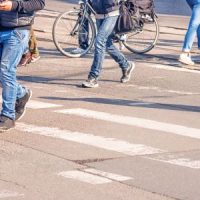 While car accidents always have the potential to cause serious injuries, those risks are highest for vulnerable road users, like cyclists and pedestrians. By remaining aware of the areas where crashes between vehicles and pedestrians are most likely to occur, both motorists and pedestrians can take steps to avoid being involved in a devastating collision.
Urban Areas
 It should come as no surprise that most pedestrian accidents occur in urban areas, where there is simply more vehicle traffic and more people traveling on foot. Parking lots and residential areas (especially near driveways) are common accident sites, but the most serious motorist-pedestrian crashes occur in areas with higher speed limits. Not only do higher vehicle speeds increase the likelihood of being struck by a car, but they also significantly increase the chances of sustaining a more severe injury. This is why most pedestrian fatalities don't actually occur in intersections or at crosswalks, where speeds tend to be lower, but on other roadway locations in urban areas.
Highways 
The majority of serious pedestrian accidents occur on open roads, away from busy intersections. This is especially true on remote highways, where there are no sidewalks, crosswalks, or other infrastructure that can help protect pedestrians. Hit and run accidents, which are one of the most dangerous types of accidents in which a pedestrian can be involved, are also more likely to occur at these locations, simply because there are often fewer witnesses who saw the accident. Again, the higher speeds on these roads means that the injuries resulting from collisions between motorists and pedestrians are often catastrophic and may even be deadly.
Unlit Roads 
Besides urban areas and highways, some of the most dangerous places for pedestrians are on unlit roadways. Roads that lack street lights or external lighting from businesses and residences leave pedestrians with little light to travel by and can leave a general lack of illumination for drivers, who then can only see what is directly in front of them. Even parking lots can be dangerous when they lack lights, leaving pedestrians at risk of being struck by an unwary driver. Wearing brightly colored clothing can go a long way towards preventing crashes between vehicles and pedestrians, but it is no guarantee of safety, which is why motorists should be on their guard in areas that lack sufficient lighting.
Contact Our Atlanta Pedestrian Accident Lawyers Today 
Taking the proper precautionary measures, respecting the right-of-way rules, and leaving adequate space can go a long way towards preventing motorist-pedestrian accidents. These kinds of collisions, however, still can and do occur. Fortunately, injured parties who can provide proof of a driver's negligence could be entitled to compensation for their medical bills, lost wages, and pain and suffering. For help pursuing compensation for your own pedestrian accident, please call Shiver Hamilton Campbell at 404-593-0020 and set up a meeting with one of our dedicated Atlanta pedestrian accident lawyers today. You can also reach a member of our legal team via online message.
Sources: 
cdc.gov/transportationsafety/pedestrian_safety/index.html
iihs.org/topics/fatality-statistics/detail/pedestrian