What Cyclists Should Know About Georgia Bicycle Accidents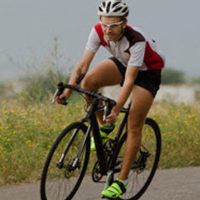 Cycling has become increasingly popular with urban commuters, as well as those looking for a bit of exercise, or merely just an environmentally friendly way to get around Georgia's roads. Unfortunately, Atlanta's notoriously congested roadways can make this a dangerous endeavor. Here are a few things to know before hopping on your own bike in Georgia.
Bicycle Accidents Have a High Injury Rate 
Any time that bicycles and vehicles share the road, an accident can happen. Unfortunately, these encounters almost always have more severe repercussions for the cyclist, who is much more likely to sustain some sort of injury. These injuries are wide ranging in both severity and type, but there are certain kinds of injuries that do tend to occur more than others, including:
Traumatic brain injury (TBI);
Compound bone fractures, especially to the legs and arms;
Joint dislocations;
Severe lacerations and amputations;
Internal injuries; and
Road rash.
Unfortunately, these kinds of accidents seem to be on the rise, with an estimated 130,000 cyclists injured in crashes on U.S. roads every year. Tragically, more than 1,000 of those cyclists pass away as a result of their injuries.
Georgia Law Protects Bicyclists
 Cyclists are specifically protected by a number of Georgia traffic laws. For instance, under Georgia law, bicycles are considered vehicles, which means that cyclists have the same rights on public roads as other drivers. Similarly, drivers must give cyclists at least three feet of safe passing distance when overtaking or following a rider. Drivers who violate these laws can and should be held liable if their actions endanger cyclists by causing a collision.
Injured Cyclists Could be Entitled to Damages 
It's important to note that cyclists who are injured in collisions with negligent drivers are not without legal recourse, but can file civil claims against the at-fault party in court. This in turn will require evidence of negligence on the part of the driver. Speeding, falling asleep at the wheel, or driving while distracted all fall under this category, as does violating any of Georgia's many bicycle-related traffic laws. If able to demonstrate negligence successfully, an injured claimant could recover compensation for accident-related medical bills, lost wages, property damage, and even pain and suffering. While recovering monetary damages doesn't guarantee that a person will be able to return to his or her pre-accident state of health, it can go a long way towards ensuring that injured parties have the resources to obtain medical treatment and pay household expenses while they recover. For help determining whether you could be entitled to damages, feel free to reach out to our legal team today.
Contact Our Experienced Atlanta Bicycle Accident Attorneys 
To learn more about filing a bicycle accident claim in Georgia and seeking compensation for your injury-related losses, call 404-593-0020 and set up a meeting with one of the dedicated Roswell bicycle accident lawyers at Shiver Hamilton Campbell today. A member of our legal team can also be reached via online message.
Sources: 
crashstats.nhtsa.dot.gov/Api/Public/ViewPublication/813322
cnn.com/2015/09/02/health/bike-injuries-increase/index.html