Bicycle Crowding Accidents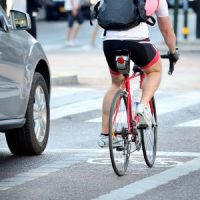 In Georgia, drivers are legally required to exercise caution when driving next to or near cyclists with whom they are sharing the road. Unfortunately, motorists don't always use the care they should and because of that carelessness, could end up risking the lives of nearby bicyclists. In other cases, motorists may actually drive aggressively, attempting to crowd cyclists who are lawfully using the streets. In both cases, injured parties could be entitled to damages, reimbursing them for their medical bills, lost wages, and pain and suffering.
Failing to Give Bicyclists Enough Space
Riding a bicycle in traffic is inherently dangerous, as bicycles are so much smaller, and as a result, are far less visible than passenger vehicles. Their lack of visibility is complicated further by the fact that not all Georgia streets are marked clearly for bicycles, or leave enough room for cyclists to navigate moving traffic and parked vehicles, even though they have just as much of a right to use the road as drivers. Crowding cyclists when passing, whether purposely or due to carelessness, is a contributing factor in many bicycle accidents. This often occurs because:
A driver failed to slow down or move over enough when passing a cyclist;
A driver turned at the same time as a cyclist at an intersection, rather than giving the rider space to proceed;
A driver, in finding a parking space, slowed or stopped in front of a cyclist, forcing that person into traffic;
A driver sped up to pass a cyclist; or
A driver crowded a cyclist to avoid a pothole or other roadway defect.
To avoid these kinds of dangerous situations, Georgia lawmakers enacted a three foot safe passing law, which requires drivers to move over at least three feet when attempting to pass a cyclist. When drivers adhere to this rule, they can avoid sideswiping cyclists or forcing them off the road.
The Consequences of Crowding
Despite Georgia's three foot passing law, many drivers fail to make room for bicycles or even go so far as to drive in bicycle lanes themselves. In the most serious cases, drivers purposely crowd cyclists to intimidate them. This type of conduct can have devastating consequences for cyclists, who lack seat belts and airbags and are more exposed to the roadway and other vehicles than motorists. Even when cyclists are able to avoid a collision with a negligent driver, they could still end up veering into traffic, colliding with a parked car or pedestrian, or being thrown from their bicycles entirely, all of which can lead to severe injuries. Fortunately, injured cyclists who can prove that a driver crowded them, thereby causing their accident and subsequent injuries, can often recover compensation for accident-related losses.
Call Shiver Hamilton Campbell for Legal Help
Accidents caused by bicycle crowding often result in serious injuries for cyclists. For help building a strong case against the driver who caused your own crash, please call 404-593-0020 and set up a meeting with one of the dedicated Savannah bicycle accident lawyers at Shiver Hamilton Campbell today.
Sources:
11alive.com/article/traffic/law-mandates-drivers-give-cyclists-space-georgia/85-23fa27bd-47a7-40d8-982b-ddcbce6ff474
gahighwaysafety.org/laws-pertaining-to-bicycles-and-bicycling/