Wet Floor Slip And Fall Accidents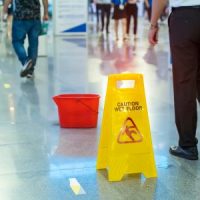 Even those who are wearing the right shoes or who aren't prone to falling could easily slip on a wet floor. While many slip and fall victims chalk these accidents up to their own carelessness and go on to contend with the consequences on their own, doing so isn't always the best course of action. Slip and fall victims can, for instance, often hold property owners liable for failing to keep their visitors safe. This includes a failure to notify visitors of wet floor hazards caused by mopping, spills, or leaks. If you were injured after slipping on a property owner's wet floor, you could be entitled to compensation for your losses. Reach out to our Atlanta legal team to learn more.
Examples of Wet Floor Slip and Fall Accidents
While the grocery store is perhaps the most likely place for a slip and fall accident to occur, due to the presence of food and drink items that can easily spill, there are other situations where these kinds of accidents can occur. Many, for instance, occur in:
Store entryways, as snow and rain can be tracked in through the entrance, creating a wet floor hazard on which visitors could easily slip;
Eating areas, like restaurants, bars, and food courts where spills of food and beverages are much more likely to occur;
Locker rooms and gyms, where the presence of showers can easily cause puddles to form on already slick floors;
Swimming pools, which, whether indoor or outdoor, are notorious for posing a slip and fall risk for visitors;
Public buildings and retail stores, whose wet floors could be attributed to leaks from ceilings, pipes, and sprinkler systems;
Waiting areas in professional offices, where self-serve coffee and water stations are often utilized; and
Train stations and subways, where it is much more likely that rain and melting snow will cause a slipping hazard.
If you slipped and fell on a wet floor in one of these locations, you could be entitled to damages. Call our dedicated slip and fall attorneys to learn more about your legal options.
Proving Liability
Before a slip and fall victim can collect damages from a property owner, he or she will need to prove that:
The owner knew about the wet floor, but failed to correct it;
The owner should have been award of the hazard, but failed to regularly check for spills or otherwise inspect the premises; or
The property owner created the hazard by spilling, or otherwise failing to keep the premises safe.
When deciding whether a property owner was negligent, juries assess what a reasonable person would have done in the same situation. A reasonable store owner who was told about a spill in a grocery store, for instance, would send someone to clean it up right away and place a wet floor sign to notify visitors of the hazard. A property owner who failed to take this step could be held liable for the resulting accident.
Contact an Atlanta Slip and Fall Lawyer
For help pursuing your own slip and fall claim, reach out to the experienced Marietta slip and fall lawyers at Shiver Hamilton Campbell today. You can set up a free consultation by calling 404-593-0020 or by sending us an online message.
Sources:
law.justia.com/codes/georgia/2010/title-51/chapter-3/article-1/51-3-1
law.cornell.edu/wex/invitee