Are Georgia Bicycle Accidents Covered by Insurance?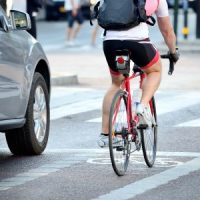 Even bicycle accidents that occur at low speeds or with a relatively minor impact tend to result in significant injuries for the cyclist. This is due to the fact that cyclists are exposed to the full force of impact, not only with the vehicle, but often with the ground itself. Treating these injuries can leave accident victims in a tough spot financially, as they are forced to try and cover their medical bills on their own, often while being unable to work. Fortunately, when an injured cyclist can prove that the other driver was at fault for an accident, he or she may end up being covered by that person's insurance.
Mandatory Auto Insurance in Georgia 
In Georgia, all drivers are required to carry liability insurance in a certain amount. Under these rules, drivers must carry at least:
$25,000 in bodily injury coverage per person;
$50,000 in bodily injury coverage per accident; and
$25,000 in property damage coverage per accident.
These policies cover not only car accident victims, but also the losses of injured cyclists when the policyholder was at fault for the crash. Unfortunately, these limits are often exceeded in bicycle accident cases, where the injuries are more likely to reach the level of catastrophic. In these instances, injured parties may need to file additional insurance claims with their own providers.
Uninsured/Underinsured Motorist Coverage 
When a driver causes a bicycle accident, then his or her auto liability insurance will usually kick in and cover the cyclist's injuries and losses. If the policyholder lacks enough insurance to cover the entirety of the victim's losses (which is relatively common in bicycle accident cases), then an injured party may need to seek the remainder from his or her own uninsured/underinsured motorist coverage. These policies are specifically designed to help accident victims recover the entirety of their losses when the person who caused their crash either isn't insured or lacks enough insurance to cover all of a victim's expenses.
Health Insurance Coverage
If a cyclist is found to be at fault for a crash, then recovery can become a bit more complicated. In these cases, the at-fault driver's insurer won't have an obligation to pay any of the victim's expenses. Instead, the injured party will need to turn to his or her own health insurance to cover the cost of treatment. In fact, a cyclist may even be able to turn to his or her homeowner's insurance to cover property damage from the accident.
Contact an Atlanta Bicycle Accident Lawyer 
Cyclists who are injured in car accidents have a good chance of having some sort of insurance coverage. Insurance companies, however, are notorious for including coverage exclusions in their fine print, in which case, it can be helpful to have an attorney on your side. For help seeking coverage for your own bicycle accident, either from the at-fault driver's insurer or from your own provider, please contact the dedicated Atlanta bicycle accident lawyers at Shiver Hamilton Campbell today. You can reach us by calling 404-593-0020 or via online message.
Sources: 
oci.georgia.gov/insurance-resources/auto
cdc.gov/transportationsafety/bicycle/index.html