The Four Most Common Causes Of Construction Accidents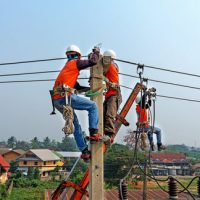 On-the-job accidents happen all the time in Georgia. The construction industry, however, is notorious for being especially dangerous for employees. It makes sense that working in construction would be dangerous, as employees are required to use heavy equipment, powerful machinery, and hazardous materials, often while working at great heights. Read on to learn more about the most common types of fatal construction accidents in Georgia.
Falls
According to the Occupational Safety and Health Administration (OSHA), the most common causes of construction worker fatalities fall under four categories, which account for almost 55 percent of work-related deaths in the construction industry. The most common type of accident is falls, which are responsible for almost 35 percent on-the-job deaths. Fall hazards are everywhere on construction sites from slick floors and loose roof tiles to scaffolds and ladders. Although employers are required to take certain precautionary measures, including the use of guardrails, to protect workers from falls, these kinds of accidents continue to occur at an alarming rate.
Being Struck by an Object
Besides falls, being struck by an object is the next most common cause of fatal construction accident injuries, being responsible for almost ten percent of on-the-job fatalities. Whether caused by contact with a falling object, a flying object (something that comes loose), a swinging object, or a rolling object, like a vehicle, struck-by injuries occur when there is forcible contact between a person and another object. Injuries can range from broken bones and head trauma to internal injuries and amputations. Tragically, many of these injuries prove to be fatal.
Electrocutions
Electricity is another deadly hazard that is present on most construction sites. Many electrocution-related injuries can be chalked up to the use of faulty equipment, non-grounded live wires, the use of improper tools, and poorly marked junction boxes. Employees who can point to one of these errors as the cause of their accident could be entitled to damages from a negligent third party contractor. Even when not fatal, injuries caused by electrocution, such as burns and electric shock can result in permanent disability.
Getting Caught-In/Between Equipment, Machinery, or Materials
The final category of fatal construction accident applies in cases where a person is caught-in/between objects. These kinds of accidents occur when someone is pinned, crushed, squeezed, caught, pinched, or compressed between two or more objects, or between parts of an object. Often, this involves getting caught in operating equipment, between a moving object and a stationary object, or even between two or more moving objects. Cave-ins while trenching are one of the most common examples of this type of accident, as is being pulled into machinery, or becoming pinned between a semi-truck and a loading dock.
Call for a Free Consultation
If you or a loved one were injured while working on a construction site, you should speak with an experienced Atlanta construction accident lawyer as soon as possible about your legal options. Contact Shiver Hamilton Campbell online or call our office at 404-593-0020 today to set up a free consultation.
Sources:
wsbtv.com/news/local/several-workers-injured-construction-accident-floyd-county/HHL7NNXVLFDQVFMF4KKI726ABQ/
osha.gov/Publications/3216-6N-06-english-06-27-2007/