What Damages Can I Recover After a Pedestrian Accident in Georgia?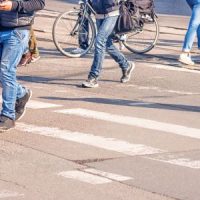 Auto-pedestrian accidents are notorious for having catastrophic consequences for the pedestrians involved, who are far less protected than motorists in the event of a collision. Injuries are typically severe and in some tragic cases, prove to be fatal. Paying for treatment can end up being prohibitively expensive for accident victims, which can be doubly frustrating for those who were not at fault for their accidents. In these cases, injured parties should strongly consider pursuing compensation through legal channels, whether via the negotiation process with the at-fault party's insurer, or through litigation. Successful claimants could receive awards compensating them for their medical bills, lost wages, and property damage, and in some situations, even their pain and suffering.
Special Damages 
Unlike criminal cases, which aim to punish defendants by imposing jail time and other criminal penalties, civil cases focus on making injured parties whole by awarding monetary damages, of which there are three main types in Georgia. The first are known as special damages and they cover specific accident-related losses, including the victim's:
Medical expenses, such as ambulance fees, emergency care, hospitalization, doctor's fees, prescription medications, medical devices, surgery, and physical therapy;
Lost wages incurred while he or she was recovering from an injury; and
Property damage-related losses, including damage to personal items, like cellphones.
Before a person can recover these kinds of damages, however, he or she will need to provide insurers or the court with strong evidence of those losses, including medical bills and invoices, pay stubs and tax returns, and receipts for property repairs or replacement.
General Damages 
General damages are a bit more difficult to calculate than special damages, as these kinds of awards cover losses that are harder to quantify, such as:
Pain and suffering;
Anxiety and depression;
Emotional distress;
Disfigurement and scarring;
Diminished quality of life;
Wrongful death; and
Physical impairment or disability.
Unlike special damages, which can be proven using receipts, bills, and invoices, calculating pain and suffering and other general damages is based on the severity of the accident, the age and health of the victim, and the impact that the injury had on his or her day-to-day life.
Punitive Damages 
The third and final category of civil damages in Georgia covers punitive awards. This type of damages seeks to compensate victims who were injured as a result of particularly egregious conduct. Negligent medical care sometimes falls under this category, as do injuries caused by someone who was driving while under the influence. Unlike special and general damages, punitive damages seek to punish the defendant and deter similar conduct in the future.
Call Today for Help Seeking Accident-Related Compensation 
If you were hurt in a pedestrian accident, you likely suffered serious injuries that have impacted your life in significant ways. To speak with an experienced Atlanta pedestrian accident lawyer about whether you could be entitled to damages, reach out to Shiver Hamilton Campbell today. You can set up a free consultation by calling our office at 404-593-0020 or by sending us an online message.
Sources: 
law.justia.com/codes/georgia/2020/title-51/chapter-12/article-1/section-51-12-2/
georgiacourts.gov/wp-content/uploads/2019/09/Apportionment-of-Damages-Terry.pdf