Fatal Crash Involving Two Vehicles On Ga. 400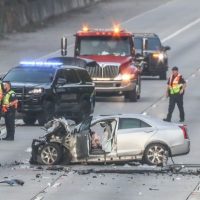 On Tuesday morning, June 27, a fatal crash involving two vehicles occurred on Ga. 400 at Holcomb Bridge Road in Roswell, Georgia, leading to the deaths of two people. The Georgia Department of Transportation reported that the accident happened around 3:30 a.m. and caused the closure of all northbound lanes for approximately five hours. The specifics of what led to the collision were not provided by the Roswell police at the time. As a result of the accident, traffic was diverted off the highway at the Northridge exit and caused significant congestion, especially in Sandy Springs. Although the lanes reopened at around 8 a.m., traffic delays persisted throughout the northern suburbs. The police stated that additional information would be shared once the investigation, which includes analysis of drone footage, is completed.
Georgia Highway Accidents
Georgia had been experiencing a trend of increased traffic accidents over the years. According to the Georgia Governor's Office of Highway Safety, in 2018 there were 1,504 traffic fatalities in Georgia, a slight increase from the 1,440 reported in 2017. Additionally, in 2018 there were approximately 385,221 traffic crashes in the state, resulting in around 19,405 serious injuries. The leading causes of these accidents included distracted driving, driving under the influence, and speeding.
Hire An Experienced Car Accident Lawyer
A car accident can be stressful. You may be left with questions about how you are going to cover the costs of damage to your car and medical treatment. If your auto accident was the result of another's negligence, you may be able to recover compensation for your losses. Contact Shiver Hamilton with any further questions or for a free consultation to learn how an Atlanta car accident attorney could help.