Tractor-Trailer Hits Stalled Kia On I-85 Gwinnett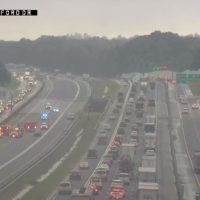 On a Thursday morning, traffic on Interstate 85 (I-85) in Gwinnett County, Georgia was disrupted for nearly four hours due to a fatal accident involving a car and a tractor-trailer. The Georgia State Patrol stated that the tractor-trailer was heading north close to Buford Drive around 6:30 am when it collided with a Kia Soul, which had lost control due to rain. The driver's side of the Kia was hit and the only person in the car, identified as 56-year-old Misteriana Rios Martinez, was pronounced dead at the scene. Emergency services closed lanes to manage the situation, causing traffic to back up between Suwanee and Buford. Police from Gwinnett County conducted an investigation into the fatality, and state troopers inspected the tractor-trailer. The scene was cleared by 10 am and motorists were advised to take alternate routes during the closure.
Truck Accidents in Georgia
In Georgia, truck accidents are a significant concern due to the state's extensive highway system which facilitates a high volume of truck traffic. As per statistics available until 2021, truck accidents account for a notable percentage of motor vehicle accidents in Georgia. In 2019, for instance, there were more than 200 fatalities involving large trucks in the state.
Factors that contribute to truck accidents in Georgia include driver fatigue, distracted driving, equipment failure, improper loading, and weather conditions, such as in the case mentioned in the article.
What to Do After An Accident
Ensure Safety: The first priority is ensuring the safety of all involved. If possible, move vehicles out of traffic.
Call Emergency Services: Dial 911 to report the accident and request medical assistance if necessary.
Document the Scene: Take pictures and videos of the scene, vehicle damage, and any visible injuries.
Exchange Information: Exchange contact and insurance information with the other parties involved.
Speak with Witnesses: If there are any witnesses, obtain their contact information and statements.
Seek Medical Attention: Even if there are no visible injuries, it is essential to seek medical attention as some injuries may not be immediately apparent.
Contact an Attorney: It's often advisable to consult an attorney who specializes in truck accidents to understand your rights and options.
Report the Accident to Insurance Company: Notify your insurance company of the accident and cooperate with them, but avoid giving detailed statements until you have consulted an attorney.
Keep Records: Maintain all records and documents related to the accident, including medical expenses, police reports, and communication with insurance companies.
Remember that actions taken immediately after an accident can have a significant impact on the outcome of insurance claims or legal proceedings.
Contact A Skilled Atlanta Truck Accident Law Firm
When you have a truck accident claim in Atlanta, it is important to contact a truck accident lawyer as soon as possible for several reasons. Trucks have insurance companies and lawyers who immediately begin gathering information and evidence and talking to witnesses. If the person wants to be on a level playing field, it is imperative they speak with lawyers who know what to do, where to go, who to call, and what evidence to gather.
Source: https://www.ajc.com/news/crime/traffic-alert-fatal-tractor-trailer-wreck-blocks-i-85-in-gwinnett/YZRJOE65UNCAHP4HVDYOUTCEYQ/