Tips For Driving In Rainy Conditions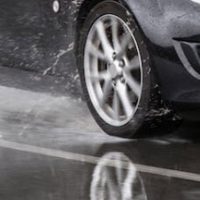 The Department of Transportation estimates that as many as 75 percent of weather-related car accidents occur on wet roadways, with almost 50 percent of such crashes taking place while it's raining. This is of particular concern in Georgia, where the summer months see a lot of afternoon rainstorms. Fortunately, there are steps that drivers can take to avoid being the cause of an accident during the rainy season.
Stay Towards the Middle of the Road 
It can be difficult to avoid driving towards the side of the road, especially when the roadway is relatively narrow. It's always better, however, to stay near the center of the road while driving in the rain, as this area is slightly higher, meaning that water can more easily drain towards the sides. Driving on the sides of the roads, on the other hand, makes it more likely that a person will have to drive through standing water, which can cause a car to hydroplane and a  driver to lose control of the vehicle.
Use Your Headlights 
A lack of visibility is one of the most dangerous parts of driving in the rain, so it's a good idea for motorists who find themselves in this position to keep their headlights turned on. Remember to keep them on low-beam, however, so that other drivers can see you approaching, but aren't accidentally blinded.
Pull Off the Road When There is a Risk of Flooding Your Windshield 
If the rain is pelting so hard that a driver can't see, even while using windshield wipers, he or she should make an effort to leave the road and wait things out in a safe place. Obscured vision is one of the most common causes of weather-related accidents, with drivers unable to see and avoid crashing into the cars in front of them.
Slow Down 
Speeding is always dangerous, but is doubly perilous when the roads are wet. Be sure to drive slowly when it's raining or the roads are still wet, as failing to do so can result in hydroplaning, where a car's tires lose traction with the road. Hydroplaning cars are almost impossible to slow down or steer, making a collision especially in a heavily congested area, much more likely to occur. Drivers who do lose control of their vehicles should be sure to take their foot slowly off the gas pedal and to avoid sharp turns and hard braking.
Dedicated Bad Weather Car Accident Attorneys Serving Savannah, Georgia 
If, despite your best efforts, you end up involved in a car accident because of someone else's carelessness, you could be entitled to compensation for your vehicle damage, medical bills, and lost wages. Call Shiver Hamilton Campbell to set up a meeting with one of our experienced Savannah bad weather car accident lawyers, who can walk you through your legal options. Call us at 404-593-0020 today or send us an online message to learn more about how we can help with your car accident claim.
Sources:
 ops.fhwa.dot.gov/weather/weather_events/rain_flooding.htm
tdi.texas.gov/tips/safety/driving-rain.html