The Worst Bottlenecks In Georgia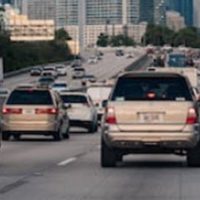 Heavy traffic has become the norm in Atlanta, where poor infrastructure and a burgeoning population have led to ever more congested roads. One of the most common causes of heavy traffic in Atlanta and across the state, however, is the presence of semi-trucks. Atlanta is an economic hub in the south, so it should come as no surprise that commercial vehicles are an ever-present reality on the highways and local roads. While they may play a vital role in the shipping industry, these trucks can cause traffic problems, especially near intersections and highway interchanges.
What are Bottlenecks? 
The term "bottleneck" is used to describe localized traffic flow constrictions, where, although traffic is backed up behind the bottleneck, it is free flowing elsewhere. Basically, if there is a place on the road where traffic almost always slows, causing a backup, but there isn't any traffic beyond the point, then you're probably dealing with a bottleneck. They are usually the result of:
Non-functioning traffic signals;
Traffic accidents;
Construction zones;
Inclement weather; and
Limited road capacity.
Georgia is home to some of the worst bottlenecks in the country. In fact, two of those bottlenecks are located at the interchanges between I-285 and I-85 North and at I-20 and I-285 West.
Where are the Worst Bottlenecks in Atlanta? 
The bottleneck at the interchange between I-285 and I-85 North is located in the middle of Embry Hills and Doraville. The typical speed at this location is around 30 miles per hour and is the worst between the hours of 2:00 and 6:00 p.m. The second bottleneck in Atlanta that regularly makes the list of the top ten worst in the U.S. is located at the interchange between I-20 and I-285 West near Fairburn Heights. The average speed during heavy traffic is a bit higher here, at around 37 miles per hour. A heavy police presence is thought to slow speeds in this area.
Why are Bottlenecks Dangerous?
 Besides being annoying, bottlenecks are also dangerous, as they leave motorists with a lot less space to maneuver. When unexpected, they can also leave drivers suddenly slamming on their brakes in response to a sudden slow-down. Unfortunately, drivers don't always make these stops in time, which can result in multi-car pile-ups and even more congestion. It can be difficult to identify the cause of a bottleneck and there is often more than one reason for such congestion. This does not mean, however, that accident victims who were injured in collisions caused by a bottleneck are without legal recourse. For help identifying the cause of your own accident and holding the responsible party accountable, reach out to our legal team today.
Were You Hurt in an Atlanta Truck Accident? 
To speak with one of the experienced Atlanta truck accident attorneys at Shiver Hamilton Campbell about your legal options, please call 404-593-0020 today. You can also reach us via online message. A member of our legal team is standing by and prepared to get started on your case right away.
Sources: 
fhwa.dot.gov/policy/otps/bottlenecks/execsum.cfm#:~:text=A%20truck%20bottleneck%20may%20be,as%20an%20 urban%20 truck%20 corridor
truckingresearch.org/2023/02/07/top-100-truck-bottlenecks-2023/