Motorcycle Accident Risk Factors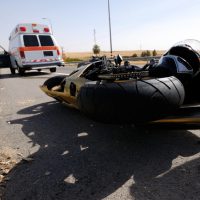 While only 3% of all vehicles on the roads are motorcycles, they account for 14% of all motor vehicle-related fatalities. [1] Risk factors for motorcycle crash fatalities include absence of a helmet, alcohol use, speeding, and invalid licensure. The problem of invalid licensure is somewhat unique to motorcyclists: nationally, a quarter of all motorcyclists in fatal crashes lacked a valid license, compared to only 13% of fatally injured motor vehicle drivers. This figure is higher in some states, with 42% of all fatally injured motorcyclists lacking a license in Michigan. While the problem is well documented, there is no clear consensus on the best solution. Onerous licensure requirements are always passed with the goal of increasing safety, but often have the effect of discouraging motorcyclists from seeking a license. Training courses are required for motorcyclists in some states, and are a good idea for all drivers.
Drinking and riding is another problem that is especially hazardous to motorcyclists. Fatally injured motorcyclists are more likely than drivers of any other vehicle type to have been consuming alcohol. Of those motorcyclists who die in single-vehicle crashes, 40% had a BAC of 0.08% or greater. Helmet usage is also significantly lower among alcohol-impaired motorcycle drivers.  [2]
In an effort to make the roads safer for motorcyclists, the Governors Highway Safety Association (GHSA) has advised certain safety measures for all states: (1) adopt and enforce helmet laws for all motorcycle riders; (2) develop and mandate motorcycle operator training programs, focusing on safety problems specific to each state's crash data; (3) develop initiatives to discourage motorcyclists from drinking and riding; (4) require motorcyclists to pass certain knowledge, skill, and vision tests in order obtain motorcycle operator licenses; (5) implement campaigns to raise awareness of other motorists about safely sharing the road with motorcycles.  [3]
[1] http://www.ghsa.org/html/files/pubs/spotlights/motorcycles_2014.pdf
[2] http://www-nrd.nhtsa.dot.gov/Pubs/812148.pdf