Motorcycle Accidents: What Kind of Damages Can I Recover?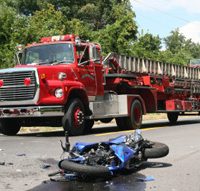 Throughout the United States, motorcycle riding has become increasingly popular, both for travel and pleasure. According to the Georgia Governor's Office of Highway Safety, from 2004 to 2008, motorcycle registrations in Georgia increased by 63%.
Motorcyclists are 26 times as likely to suffer a wrongful death in an auto accident as passenger car occupants. That is why it is vital for motorcycle drivers and their loved ones to know the possible remedies available for their accidents.
Motorcycle Accident Damages and Compensation
Georgia motorcycle law states that negligent drivers are responsible and liable to Georgia motorcyclists. Just like any other personal injury case, economic and non-economic damages are available for motorcycle accident victims. For example, economic damages may include property loss, medical costs, and lost income. Property damages can include any damages concerning the motorcycle or equipment used for riding the motorcycle. Compensatory damages can include lost wages or other lost income. Pain and suffering along with punitive damages make up non-economic damages. Punitive damages are available if the defendant acted in some egregious manner such as intentionally causing the crash or driving under the influence.
While a monetary recovery will not repair the physical and emotional toll on the individual, one thing it can do is ease the financial worries that occur due to the car accident.
An important thing to remember is that personal injury claims are time barred. O.C.G.A. 9-3-33 states that actions for injuries by claimants shall be brought within two years after the right of action accrues.
Determining and investigating all the different issues and factors of a personal injury claim from a motorcycle accident involving another car or truck can be complicated. Issues that must be evaluated include the nature and extent of the injury, the economic losses, the liability issues, the trial venue, and other factors such as prior injuries.
If you've been seriously injured in a motorcycle accident, it's best to meet with a personal injury attorney and review your case together. Here at Shiver Hamilton Campbell, we are experienced attorneys with a proven track record of success and may be able to work for you.