Left Turn Motorcycle Accidents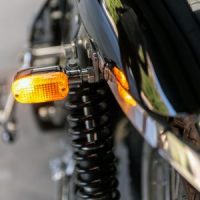 Motorcyclists are often drawn to Georgia by its balmy climate, scenic roadways, and many attractions. Unfortunately, the influx of motorcyclists in the state doesn't come without risk, as Georgia has some of the busiest roads in the country. Left turn accidents, which occur when a driver fails to see a motorcycle while attempting to turn left, colliding with the smaller vehicle are particularly common. The injuries sustained in these crashes are almost always severe for the rider, who is not shielded from the road to the same degree as vehicle occupants. Recovering compensation after this kind of crash can also be complicated, as minimum insurance coverage is often insufficient to cover a victim's damage, meaning that they must often file claims with the other driver's insurer, or attempt to take that person to court, in order to recover.
What is a  Left Turn Motorcycle Accident?
Left turn motorcycle accidents happen when a motorist fails to see a motorcycle traveling in the opposite direction and so turns left in front of that rider, who then collides with the side of the left turning vehicle. These accidents usually occur in intersections, where riders are struck traveling straight as the driver tries to turn. They also tend to happen at high speeds, with the rider unaware of the impending danger until it is too late to brake or attempt to swerve out of the way. Finally, these accidents are often worsened because they trigger secondary collisions and eventual multi-car pile-ups, which are notorious for having particularly devastating consequences for the parties involved.
How Often Do Left Turn Accidents Occur?
While there are many different types of motorcycle accidents, left turn crashes are some of the most common and the most dangerous. In fact, according to the National Highway Traffic Safety Administration (NHTSA), more than 40 percent of all deadly vehicle-motorcycle crashes involve a motorist turning into the path of a motorcycle rider. Frustratingly, these crashes can often be attributed to driver distraction, fatigue, or intoxication.
Who Can be Held Liable for Left Turn Motorcycle Accidents?
When a motorcycle has the right-of-way and is struck while legally traveling through an intersection, by a driver making an illegal left turn, he or she is entitled to damages for accident-related losses. This does not mean, however, that a clearly at-fault driver won't try to blame the rider for the accident, claiming that he or she should have done more to avoid the collision. Avoiding such a crash, however, is often impossible, with drivers making turns far too suddenly for a rider to take any kind of evasive action. Fortunately, motorcycle riders can challenge these underhanded attempts by submitting evidence of their own, including photographs from the scene of the accident, eyewitness testimony, camera footage, and police reports.
Call Today for Help with Your Case
To speak with a Jonesboro motorcycle accident lawyer about holding the driver who caused your own left turn accident accountable for his or her negligent actions, please call Shiver Hamilton Campbell at 404-593-0020 today.
Sources:
one.nhtsa.gov/links/GetUpToSpeed/index.html
flhsmv.gov/insurance/