The Dangers Posed By Rollover Accidents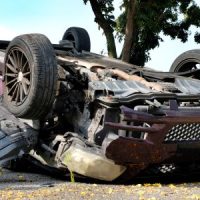 Although rollover accidents account for only around two percent of the car accidents that occur in the U.S. every year, almost 35 percent of passenger vehicle fatalities occur during these kinds of crashes. Of the many types of car accidents in which people can be involved, rollover accidents, while not very common, are by far one of the most dangerous.
Types of Rollover Accidents
While all rollover accidents involve a vehicle tipping over onto its side or roof, not all are the same. There are, for instance, two main types of rollover accidents, which differ in how they are instigated. The most common kind is known as a tripped rollover crash and occurs when a vehicle hits a curb, ditch, or other object that causes the vehicle to slide sideways, with the amount of force placed on the tires eventually causing the car to flip over. The less common type of rollover crash is called an untripped rollover accident and occurs when there isn't anything on the road that serves as a tipping point. Instead, in these cases, vehicles roll not as a result of an external force, but because of speeding and being too top-heavy. This kind of accident is becoming increasingly common as more and more people are using vehicles with high profiles, like SUVs. Both kinds of rollover accidents are extremely dangerous and can result in devastating injuries.
Common Rollover Accident Injuries
Rollover crashes result in some of the worst injuries that a car accident victim can sustain, including:
Traumatic brain injuries (TBIs), which can occur when the car flips and the occupant's head strikes an object inside the car, or when the occupant is ejected from the car and comes to rest on the pavement;
Crushed or broken bones which occur upon impact and can be worsened if the vehicle actually comes to rest on an ejected passenger;
Lacerations, which can leave victims with permanent muscle and nerve damage and disfiguring scars;
Internal injuries from the force of impact, which can result in punctured organs and internal bleeding; and
Spinal cord injuries, which are often the result of the repeated flipping motion that is characteristic of the rollover accident.
These types of catastrophic injuries are notoriously difficult and expensive to treat. Sadly, the injuries sustained are so severe that they often result in passenger fatalities. In fact, the National Highway Traffic Safety Administration (NHTSA) reports that rollover crashes are more likely to result in fatalities than any other crash, making up around one-fifth of all fatal accidents.
Call for a Free Consultation
While electronic stability control measures have helped lessen the number of rollover accidents occurring on U.S. roads, these kinds of crashes still can and do happen, leaving victims to suffer the consequences. For help seeking compensation after your own rollover crash, call the dedicated Atlanta car accident lawyers at Shiver Hamilton Campbell today. You can set up an appointment with a member of our legal team by calling 404-593-0020 or by sending us an online message.
Sources:
crashstats.nhtsa.dot.gov/Api/Public/ViewPublication/809438
m.iihs.org/mobile