Retrieving Video Evidence After An Intersection Accident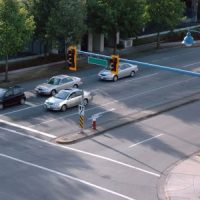 One of the number one causes of Atlanta intersection accidents is driver error, such as the disregarding of a traffic control device. Unfortunately, even when this happens and fault for a crash is clear, the other party could still argue that the victim was partly or wholly to blame for the crash. In these cases, claimants will need to find evidence showing that the victim had the right-of-way. Of the many types of evidence that car accident victims can use to prove fault in their cases, video footage is one of the most compelling, as it can show exactly what happened on the date in question. While obtaining video recordings of a crash is technically always possible, it is sometimes easier to recover when the accident took place at an intersection, as there are often retail stores and housing developments near these locations whose security systems may have captured the accident on video.
Security Systems on Commercial Buildings and Residences
Immediately after the accident, the parties involved should start checking whether retail stores near the intersection have surveillance cameras, which may have captured the crash unintentionally. Retail stores and similar commercial buildings aren't, however, the only ones who use security systems. The homes in many residential housing developments, for instance, now often come equipped with this type of technology that can record what happens in the street in front of them. Accident victims should be sure to inquire with both business proprietors and homeowners about their footage. Time is of the essence with these kinds of investigations, as many video recording systems don't keep footage for more than 30 days and some keep it for much less.
Dashboard Cameras
Even if a business or residence doesn't have any footage of an intersection accident, all hope is not lost, as accident victims can still look for footage either from their own dashboard camera or from the dash cam of other drivers. Drivers who saw the accident occur, for instance, may be driving a vehicle that is equipped with a dashboard camera. If these individuals stop, accident victims should be sure to speak with them about getting a digital copy of their recording. Claimants can also ask the other party's legal team to turn over data from his or her vehicle's dashboard camera or even the vehicle's Electronic Control Module (ECM), which record how fast the car was going prior to the crash, or even whether they attempted to brake.
Traffic Cameras
Georgia has an extensive traffic network, but its purpose is to help monitor traffic flow, not to keep track of accidents. For this reason, these cameras only show footage via live stream and don't record videos, which means that the Georgia Department of Transportation won't turn over any traffic camera footage after an accident because they simply don't have it. This, however, should not deter accident victims from seeking other types of video footage that can be used as evidence in their intersection car accident cases.
Contact Shiver Hamilton Campbell Today
If you were hurt in an intersection accident in Georgia, you may need the help of an experienced Atlanta car accident lawyer who can help you track down video footage of your crash. The legal team of Shiver Hamilton Campbell is standing by and eager to help you through each phase of your case. Call us at 404-593-0020 to set up a consultation.
Sources:
washingtonpost.com/technology/2019/08/28/doorbell-camera-firm-ring-has-partnered-with-police-forces-extending-surveillance-reach/
511ga.org/