When Do I Need a Motorcycle Attorney?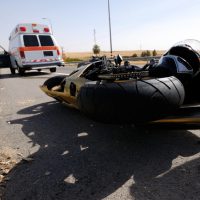 Motorcycle accidents tend to be life altering events because of their destructive consequences. Most result in serious injury and death.  Here, at Shiver Hamilton Campbell, we can help make you whole. While not every motorcycle accident requires a motorcycle attorney; for example, if it's only a fender-bender or the dispute only requires a small amount of out-of-pocket expenses, a lawyer may not be needed to handle the insurance claims. Accidents involving serious injuries should be reviewed by an attorney before settlement to make sure that the offer is reasonable and fair.
Many motorcycle riders suffer bodily injuries that are not initially felt until days or sometimes weeks after an accident. Some of these injuries are life-long and worsen over time. Additionally sometimes, what seems like only minor superficial damage to the bike can turn out to be a major mechanical issue or actually a total loss.
An experienced motorcycle attorney will know what state laws apply and need to be addressed. Some laws will bar a person from any recovering if he or she does not file the proper documents within a certain amount of time.  Also, an experienced personal injury attorney can help you avoid paying more money to hospitals and insurance companies than is necessary, usually by negotiating and settling claims or medical liens. This is just the tip of the iceberg as there is a great deal more to settling a case then simply negotiating a dollar figure.
The point is, an motorcycle attorney can help guide you from accepting a settlement offer that will not adequately compensate you, because one you accept the offer, there's no second chance to recover more.
If you've been involved in a motorcycle accident, it's best to meet with a personal injury attorney and review your case together. Here, at Shiver Hamilton Campbell we are experienced attorney with a proven track record of success and may be able to work for you.  We handle cases throughout Georgia, but even if you're outside of Georgia, we may be able to help you find an attorney who can best suit your needs because we work with attorneys throughout the United States.