Distracted Driving from Texting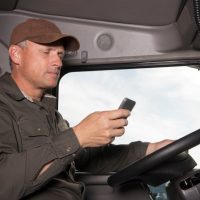 One of the most common causes of distracted driving is cell phone use. In the case of texting the driver stops focusing on the road and starts focusing on the text all while propelling a vehicle at high speeds. These accidents are preventable and thousands die needlessly each year because of people using their cell phones while driving, this includes both handheld and hands-free usage.
Because of these startling statistics, the U.S. Department of Transportation (DOT) and National Safety Council (NSC) have recognized April 2014 as Distracted Driving Awareness Month. So, in recognition of Distracted Driving Month we wanted to share with you some important information on Georgia Law and texting while driving.
Currently under Georgia law:
Generally, all drivers, regardless of age or experience, can never text message while driving, unless:
The driver is reporting a traffic accident, medical emergency, fire, serious road hazard; ongoing or potential criminal act; or some other situation where he or she reasonably believes he or she may be or currently is in danger
Or the driver works for a public utility company and is responding to a public utility emergency, or is a law enforcement officer, firefighter, emergency medical services personnel, ambulance driver, or other similar public safety first responder and use the wireless device for that job.
However, all drivers may use wireless communication devices when his or her motor vehicle is lawfully parked.
Research has actually demonstrated that even talking on a handheld mobile phone while driving leads to some level of distraction.  For this reason, federal regulations that apply to commercial motor vehicles and drivers (tractor trailers and other qualifying vehicles) totally ban use of most mobile devices, including handheld and even hands-free phones under most circumstances.  It is startling, and scary, that some studies suggest texting and other mobile device uses while driving may impair the driver's attention and reactions just as much as being intoxicated.
Investigating a Distracted Driving from Texting Accident
Aside from eyewitnesses, cell phone records are crucial. Typically, these records will show the timing of a text being sent or received and whether it coincided with the time frame surrounding the collision. An experienced personal injury attorney will know how to subpoena these cell phone records for a crash investigation.
If you've been seriously injured in an accident you think was caused by distracted driving, it's best to meet with a personal injury attorney and review your case together. Here at Shiver Hamilton Campbell we are experienced attorneys with a proven track record of success and may be able to work for you. We pride ourselves on taking a more hands on personal approach to our cases by providing our clients with legal counsel and guidance along the way, throughout the case and even after it's over.
---
In 2012, an estimated 421,000 people were injured in motor vehicle crashes involving a distracted driver, and 3,328 of those people died. http://www.sr22insurance.net/distracted-driving/
http://www.nhtsa.gov/About+NHTSA/Press+Releases/2014/DOT+Launches+FirstEver+National+Distracted+Driving+Enforcement+and+Advertising+Campaign
NSC is a nonprofit national organization chartered by Congress and founded in 1913 to help stop preventable injuries and deaths occurring at work, in homes and communities and on the road through leadership, research, education and advocacy. http://www.nsc.org/safety_road/Distracted_Driving/Pages/DDAM.aspx