Motorcycle Accidents: Helmet Law and Other Motorcycle Safety Requirements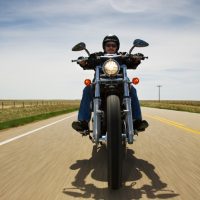 Not all states have the same motorcycle safety requirements. In fact, surprisingly, not every state even requires that individuals wear a helmet while operating a motorcycle. However, Georgia, under O.C.G.A. § 40-6-315(a), does require that all motorcyclists, regardless of experience and age, wear a helmet when operating a bike.
Like car accidents, liability for damages in motorcycle accidents is based on issues like weather conditions, driver error, vehicle error, negligence, reckless behavior, etc. Part of establishing liability is showing that you were not part of the problem, or said in legal terms "comparatively negligent." Failing to wear a helmet may make you comparatively at fault and could be grounds for losing your suit.
Here are some other safety requirements that motorcyclists must adhere to when operating a bike in Georgia, failing to do so could be grounds for losing a case (note: these provisions generally do not apply to police officers operating motorcycles):
Georgia makes it illegal for a motorcyclists to pass another vehicle in the same lane (ie basically motorcyclists cannot use the narrowness of the bike to pass a vehicle in a way a large car could not).  O.C.G.A. 40-6-312(b).
Georgia prohibits motorcyclists from driving between lanes of traffic or between adjacent lines or rows of vehicles (ie using the bike's compact nature to drive in-between cars). O.C.G.A. 40-6-312(c).
Motorcyclists driving in Georgia must refrain from "lane-splitting" between three or more bikes. "Lane-splitting" is when motorcyclists drive two abreast or more in a single lane, more than two is prohibited in Georgia. O.C.G.A. 40-6-312(d).
Motorcyclists driving in Georgia are required to use a headlight and taillights at all times of the day in all kinds of weather conditions. O.C.G.A. 40-6-312(e).
Motorcyclists driving in Georgia must wear eye protection, if their bike does not have a windshield. O.C.G.A. § 40-6-315 (b).
Motorcyclists and their passengers are also prohibited from attaching their person or the motorcycle to any other vehicle on a roadway. O.C.G.A. § 40-6-313.
All drivers and passengers of motorcycles must wear some type of footwear other than just socks. O.C.G.A. § 40-6-311.
These are but a few of the laws motorcyclists must follow. Violating any of these laws could negatively impact your suit.  If you are unfamiliar with Georgia motorcycle laws and safety regulation and you or someone you love was injured or killed in a motorcycle accident, you should discuss your case with an experienced Atlanta personal injury attorney. You may be eligible for compensation for any damages, medical bills, and pain and suffering.
---
Here, at Shiver Hamilton Campbell we have vast experience in the motorcycle accident claims and may be able to work for you. We pride ourselves on taking a more hands on personal approach to our cases by providing our clients with legal counsel and guidance along the way.