Is Lane-Splitting Legal For Georgia Motorcyclists?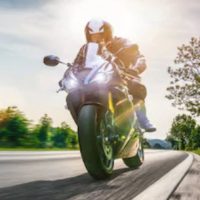 Motorcycle riders who encounter congested roads are often tempted to ride between the lanes of traffic, a practice commonly referred to as lane-splitting. While advocates of this practice argue that lane-splitting saves time and money, riders should be aware that it is still illegal in the state of Georgia. Whether or not a motorcyclist engaged in lane-splitting, or a similar activity, can have significant repercussions for the success or failure of an eventual claim for damages.
What Qualifies as Lane-Splitting?
Lane-splitting is a term used to describe the practice of riding between clearly marked lanes of traffic that is traveling in the same direction. Because of their small size, lane-splitting is really only an option for motorcycle riders. Doing so is, however, unlawful in Georgia. A similar practice, known as lane-filtering, in which a rider slowly moves up a line of stopped vehicles to the front, usually at a traffic light-controlled intersection, is also prohibited under Georgia law. While the terms for lane-splitting and lane-filtering are often used interchangeably, they actually describe two very different practices, both of which can be dangerous for motorcyclists.
Other Motorcycle-Related Laws in Georgia
The rules regarding lane-splitting and lane-filtering aren't the only ones that motorcyclists in Georgia most obey. Other important laws that riders should keep in mind include the following:
Motorcycles, like other motorists, are entitled to the entire width of a lane, unless two motorcyclists are riding side by side;
Motorcyclists must have liability insurance coverage of at least $25,000 per person and $50,000 per accident in bodily injury coverage and $25,000 in property damage coverage;
Riders must always have their headlights and taillights engaged;
All riders must wear helmets; and
All motorcyclists must either use a windshield or wear goggles or a face shield on their helmets.
A motorcyclist's decision to violate one or more of these laws could have significant bearing on the outcome of a personal injury claim following an accident with another vehicle.
How We Can Help
Our dedicated Atlanta motorcycle accident lawyers can help you pursue financial recovery following your crash by:
Thoroughly investigating your case;
Collecting important evidence about the accident;
Documenting your injuries and losses;
Explaining your legal rights and options;
Filing your claim with the insurance company;
Negotiating with insurers on your behalf and attempting to reach an out-of-court settlement; and
Filing a lawsuit to take your case to court.
To learn more about how we can help with your case, reach out to our legal team today.
Set Up a Free Case Review Today
At Shiver Hamilton Campbell, our dedicated Savannah motorcycle accident lawyers are well-versed in the difficulties faced by motorcyclists when attempting to recover compensation after a crash. To discuss your case, call us at 404-593-0020 or reach out to us online. A member of our legal team is standing by to help you through each phase of your case.
Sources:
ga.elaws.us/law/section40-6-312
rideapart.com/features/315449/lane-splitting-filtering-difference-explanation/