Gathering Evidence in Trucking Accident Cases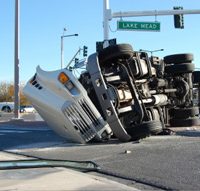 The success or failure of any case hinges on effectively presenting facts to a jury.  To effectively present the facts, an attorney must be both skilled and tenacious in identifying, preserving  and gathering critical evidence.  Nowhere is this more true or important than in trucking accident cases.  That is because the key evidence in these cases is often technical, and also can be lost if you do not immediately take steps to preserve it.  For example, critical evidence like gouges on the pavement, skid marks,and police paint markings will fade with time.  We routinely work with forensic investigators to document this evidence immediately, before weather and the elements compromise the evidence at the crash scene.
Generally during the period after the complaint is filed but before trial, known as "discovery," the attorneys literally discover evidence. The law requires parties to turn over certain pieces of information related to the case and adhere to opposing counsel's proper requests. Typically, such requests result in obtaining drivers' logs, truck maintenance records, employment histories, electronic records, the electronic control module or "black box" information from the truck, company policies for training, and the list goes on.
But that evidence is worthless, unless your attorney knows how to use it. Our legal team is skilled and well versed in trucking accident cases and can know how to dig deeper than what's at the surface and read between the lines to make sure you get the justice you deserve.
The methodology for gathering evidence in trucking accident cases vary, but here are some examples:
Pictures at the scene do not show any skid marks from the truck: the fact that there are no brake marks could be proof of negligence. No skid marks from braking could indicate that the driver was not paying proper attention.
Driver's cell phone bills indicate a text message was received around the time of the collision: the fact that the driver received a text message and then an accident occurred could be proof of distracted driving. The timing indicates that the driver took his or her eyes off the road to check his or her phone.  Federal regulations forbid use of most handheld communication devices while driving a commercial vehicle.
Electronic Log or EDR Data:  Computer systems today track a remarkable amount of data about the location, speed, braking and even engine RPMs of commercial tractor trailers.  These data can provide critical evidence to prove why a crash occurs, including such facts as fatigued driving, or a pattern of excessive speeding.  But it is technical to retrieve and interpret this data.
These are just a few of the examples of how our legal team can examine evidence and build your case to get you the justice you deserve. Aside from our experience and proven track record what sets Shiver Hamilton Campbell apart from other firms is our passion to help our clients.
We pride ourselves on being a 'different kind of plaintiff's lawyer.'  We are the opposite of the stereotypical mass-marketing plaintiff's firm. After you retain our services to represent you in your trucking accident case we launch an immediate investigation, going to the scene in order to discover, gather, and preserve evidence and avoid its destruction, and review whatever other material is relevant and available, so we can begin building your case. We will also retain expert witnesses on your behalf should any be needed to prove who is responsible and to what extent. Skilled negotiators, not every case must go to trial and we strive to get you the recovery you deserve without unnecessary delay. However, should we go to trial we will be ready and zealously represent you.