Trucking Accidents: Driveru2019s Fatigue and Federal Regulations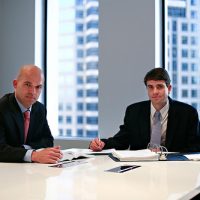 The typical workday is 8 hours long, which can leave anyone tired and fatigued.  Truck drivers are often paid by the mile[1]  – creating an economic incentive to go as far as fast as possible.  Days for these drivers behind the wheel of an 80,000 truck have a real risk of significant fatigue, and with it danger to other motorists.  Some reports have shown drivers attempting to drive 12-14 hours at a stretch, leaving them tired or fatigued.
This driver fatigue is basically having trouble focusing, or narrowing attention due to lack of rest while operating a motor vehicle. Driving fatigue often results in poor judgment, slower reaction times and even "zoning out" or falling asleep behind the wheel. Obviously driver fatigue significantly increases the risk of a crash and is believed to contribute to more than 30% of all motor vehicle related crashes, and nearly 35% of trucking accidents.
Consequently, due to the high number of fatigue-related trucking accidents and the fact that it becomes increasingly more difficult to gauge your level of fatigue the more tired you become, the federal government has laws [2] mandating trucking hours:
Truck drivers must maintain a log book of their driving hours
Truck drivers cannot legally drive more than 11 consecutive hours unless the driver takes a 10-hour break in between the two driving shifts.
In the 8 hours before a driving shift, truck driver drivers cannot have alcohol or other drugs that can affect their driving capabilities
Truck drivers must take a 30-minute break during the first eight hours of a shift.
Truck drivers can work a maximum of 14 consecutive hours, of which only 11 hours can actually be spent on the road.
Truck drivers cannot drive after 60 hours on duty in 7 consecutive days: A driver may restart a 7 consecutive day period after taking 34 or more consecutive hours off duty.
Truck drivers cannot drive after 70 hours on duty in 8 consecutive days: A driver may restart an 8 consecutive day period after taking 34 or more consecutive hours  off duty.
If a truck driver takes two and a half days off from work at any given time, he or she can then start their workweek at zero hours
It is important to keep in mind that if trucking companies violate these rules they can be liable for accidents caused by their driver's fatigue. In some situations, trucking companies will be liable even when the company itself followed the federal rules but their driver did not.
If you've been involved in a trucking accident knowing which rules apply and when to apply them can be the difference between recovering what you deserve and the trucking company walking away without penalty. Here, at Shiver Hamilton Campbell we are experienced in navigating the myriad federal regulations that may be related to your case.
---
[1] http://greatcdltraining.com/truck-driving-jobs/understanding-truck-driver-pay/
[2] http://www.fmcsa.dot.gov/documents/hos/HOS-Regulations-7-1-2013.pdf ; http://www.fmcsa.dot.gov/rules-regulations/administration/rulemakings/final/HOS-Final-Rule-12-27-11.pdf