Distracted Driving: A Leading Cause in Truck Involved Accidents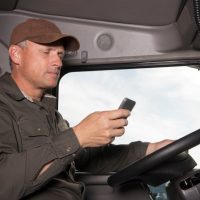 Distracted Driving is the practice of driving a motor vehicle while engaged in another activity. In most instances that other activity involves using a cell phone, GPS or other electronic device.[1] Truck drivers often engage with these and other distractions while driving due to long stretches of time spent on the road and behind the wheel, making distracted driving one of the most common causes of truck-involved accidents.
In 2010, the Georgia General Assembly adopted O.C.G.A. § 40-6-241.2, the "Distracted Driving Statute." In general, this law prohibits people from using "telecommunications devices." Such devices include mobile phones, for texting, e-mail and other similar uses. The reason distracted driving is so dangerous is that, in general, looking away from the road for only two seconds doubles a driver's risk of being in a crash.[2] Tractor-trailers can weigh more than 80,000 pounds and can inflict horrible damage and injury when the driver is distracted and operating the vehicle carelessly.
Notably, the Code excludes:
citizens band radios,
citizens band radio hybrids,
commercial two-way radio communication devices,
subscription based emergency communications,
in-vehicle security,
navigation devices,
and remote diagnostics systems, or amateur or ham radio devices.
The Code also does not apply when reporting
a traffic accident,
medical emergency,
fire,
serious road hazard, or
a situation in which the person reasonably believes a person's health or safety is in immediate jeopardy;
the perpetration or potential perpetration of a crime;
But, if you are found guilty of texting and driving you can be fined $150.00.
With regard to truck accidents it may be possible to prove that a driver was distracted even if he was not violating the law by texting and driving.  For instance, a truck driver may still be liable for being distracted by another person in the truck or by a conversation happening legally on a hands-free phone, because by engaging in such activity the driver acted negligently.
The distracted driving laws in Georgia are constantly changing and in order to address those who talk on cell phones or text while driving. Proving such negligence or other legal claims can be difficult, particularly if you are not an attorney that specializes in personal injury and do not know which laws to apply. Read more about why you need a truck-accident attorney if you have been in a collision with a tractor-trailer here.
At Shiver Hamilton Campbell our staff of personal injury lawyers can explain how the latest laws apply in your case. If you've been involved in an accident with a truck and you think it was because the driver was distracted we want to hear from you. Let us put that experience to work for you.
---
[1] Other types of distractions include: Texting, Using a cell phone or smartphone, Eating and drinking, Talking to passengers, Grooming, Reading (including maps), Using a navigation system, Watching a video, and Adjusting a radio, CD player, or MP3 player. https://www.distraction.gov/content/get-the-facts/facts-and-statistics.html
[2] See, http://exchange.aaa.com/safety/distracted-driving/the-risks-of-distracted-driving/ (the American Automobile Association's (AAA) analysis of data from a 2006 study conducted by Virginia Tech's Transportation Institute revealed that taking your eyes off the road for2012 Traffic Safety Culture Index more than two seconds doubles your risk of a crash.)