What is Negligence and How Does It Relate to a Trucking Accident?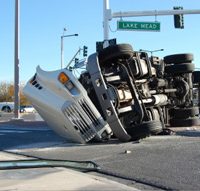 What is Negligence?
Trucking accidents usually result from one party driving negligently. There are many things that can be considered negligent, such as:
Aggressive driving
Tailgating / Speeding
Cell phone use (distracted driving)
Fatigue (paid by the mile)
Untrained/Unqualified drivers
Drug/Alcohol Abuse
Unbalanced or overloaded cargo
And the list goes on and on
In a trucking accident what does "acting negligent", "being negligent," or "performing a negligent act" really mean? [1]
First, it's best to understand that Georgia has laws which all drivers of trucks, cars and motorcycles must follow while operating a motor vehicle on Georgia's roads and highways.[2] A person can be liable for breaching these rules either by acting intentionally or unintentionally. The law treats intentional and unintentional acts differently.
This blog is about negligence, which is when someone acts unintentionally in a manner that is unreasonable or careless and which causes harm to another.[3]  So, when a truck driver does not act the way a "reasonable person" would, even though it was an accident, that truck driver can still be liable, along with his employer and any insurance companies who cover the tractor trailer.[4]
Today, state and federal laws have provisions that can make the companies or employers of negligent truck drivers as well companies that lease trucks to drivers "vicariously liable" as a matter of law for the driver's negligent conduct. In other words, the truck driver and those who hired or leased the truck  to the driver can also be at fault for the driver's negligence.
Negligence is only one of the most common causes of truck-involved accidents. Read more about other common causes such as distracted driving in our blog, Trucking Accidents: the 6 Most Common Causes.
---
Given the constantly evolving nature of the law and legal concepts, if you have been involved in a tractor-trailer collision, it is best to consult with a Georgia Attorney that specializes in personal injury. Here, at Shiver Hamilton Campbell, we are personal injury attorneys dedicated to getting our clients justice. We take a personal approach to our cases and are here to explain the various claims you might have against drivers and their employers. Our experienced legal team has a proven record of success because we understand the nuances of the law and how to successfully pursue negligence  claims. 
[1] Note: Laws are constantly changing, and although many of the general legal concepts discussed in this blog will not change, the same may not be true for the code sections relating to those laws as of this writing on January 17, 2014. This is why it is best to consult with a Georgia Attorney who practices personal injury, because they are actively engaged in this area of the law and will likely be aware of any changes.
[2] As of January 17, 2014, Title 40 Article 6 Chapter 1 of the Georgia Code covers traffic regulations. More specifically O.C.G.A. § 40-6-1 through 40-6-397 covers these rules of safety.
[3] Negligence is a legal concept taught in law school, and much time is spent on understanding it, this blog is very basic in its information and in no way a substitute for the experience and advice of someone with a Juris Doctorate.
[4] See O.C.G.A. § 51-1-2.