Fatal Box Truck Accident Occurs in Douglasville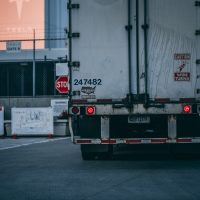 Authorities have reported that a woman was killed as a result of a Douglasville box truck accident on Saturday night. The victim has yet to be identified, however, eyewitnesses report that the box truck struck a gray Honda Sedan. The deadly crash pushed the vehicle into the parking lot of the adjacent liquor store by the intersection of Wenona St and Bill Arp Road. Further details regarding the incident have yet to be released.
Tips for Preventing Box Truck Accidents
Box trucks can be found just about everywhere. They are straight-sided, 12 to 22-foot-long vehicles often used by companies such as Amazon and UPS for shipping, although they are not limited to this purpose. Although box trucks are not as large as 18-wheelers and cargo trucks, they still pose a very unique set of dangers for other drivers on the road, and proper precautions should always be exercised when sharing the road with them.
When looking to pass a box truck, it is important to recognize that they have larger blind spots than a standard vehicle. Many box trucks are not equipped with proper mirrors, which makes it more likely for a driver to accidentally crash into a vehicle passing them. Additionally, many box truck drivers are rushed and potentially inexperienced. Since box trucks are frequently used as delivery vehicles, drivers are often stressed trying to meet high quotas and driving in unfamiliar areas. These dangers can be magnified if a driver is inexperienced with driving these vehicles. If you see a box truck driving frantically and dangerously, it is important to take the time to call the employer and report the driver's behavior. If you find yourself driving alongside a box truck, it can be helpful to minimize all potential distractions and be aware of your surroundings.
If you ever find yourself in a crash with a box truck, it is important to contact a Douglasville truck accident lawyer or a wrongful death attorney early on in the process. Evidence is most useful immediately following an accident, and timing can be crucial when determining truck accident liability. At Shiver Hamilton Campbell, we have many deadly crash attorneys who are experienced in dealing with fatal truck accident liability and may be able to help you receive the compensation you deserve.