18-Wheeler Accident in Peach County on I-75 South Causes Serious Injury and Death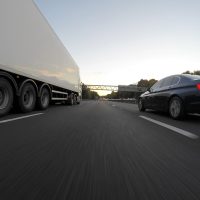 On Sunday a fatal truck accident occurred on I-75 Southbound in Peach County that left three people injured and one person dead. The Georgia Department of Transportation announced the deadly crash on I-75 that happened near the Sardis Church Road interchange on Sunday.
Shortly before 2 p.m. on Sunday, an 18-wheeler truck was traveling north when two tires became loose. One tire jumped the median and went into oncoming traffic. The tire went through the windshield of a vehicle operated by a 36-year-old woman, killing her. The woman's mother, father, and child were in the car but did not receive life-threatening injuries from the 18-wheeler accident.
The fatal truck accident backed traffic up starting at 2 p.m. on Sunday afternoon and caused two of the three lanes of I-75 South to be closed. It is not currently known what caused the tires to come off of the truck, but the Georgia State Patrol is currently investigating the situation.
A spokesperson for the Georgia State Patrol said in a statement given Monday that any charges against the driver of the truck are pending the outcome of their investigation. An accident reconstruction team is being utilized to gain better insight into the accident.
If you or someone you love has been involved in a truck accident such as this or another fatal roadway accident, it could be important to you to seek legal counsel to hold the guilty parties responsible for their actions. The truck accident attorneys at Shiver Hamilton Campbell have experience with truck accidents in Peach County and could help you assess your case and chart the best path forward to receiving the compensation you deserve after an 18-wheeler accident in Georgia.