Dressing for Motorcycle Safety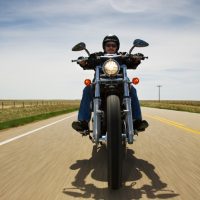 On a motorcycle, a driver is uniquely exposed to wind, rain, sun, and the road. In many cases this is one of the features that motorcyclists love about driving. But in the case of an accident, that exposure can become dangerous. Even on the best day, a motorcyclist can come into contact with small rocks, bugs, cigarette butts, and other debris. Accordingly, a motorcyclist's choice of clothing plays a vital part in his or her safety.
How to Dress for Motorcycle Safety
Motorcyclists should always wear thick protective pants and jackets that are tight enough to avoid flapping in the wind, but loose enough to allow free movement. It's important to dress for the worst-case scenario: shorts and a t-shirt may be comfortable on a hot day, but thick clothing can help protect from road rash and broken bones in case of a crash or fall. Color choice is important too. Drivers of cars and trucks often report after an accident that they never saw a motorcycle until it was too late. This is partly because a motorcycle is so much smaller than other vehicles and partly because many drivers simply aren't accustomed to looking for motorcyclists. Wearing brightly colored, reflective clothing can increase a motorcyclist's visibility to other drivers and help avoid accidents.
Protective eye gear and sturdy shoes also essential. Sustaining an eye injury while driving can quickly become disastrous. Shoes should have a stiff rubber sole with good traction and should fit snugly enough to stay on in an accident.
It should go without saying that motorcycle drivers and passengers should wear a helmet at all times. Although helmet use is required by law in only 19 states and the District of Columbia, helmets provide drastic protection from brain injuries and death in the event of a crash. [1] In states with no helmet law, 75% of fatally injured motorcyclists were not wearing helmets at the time of the crash. But there are a number of helmets on the market that do not provide adequate protection. The Department of Transportation has developed safety standards for motorcycle helmets, and conducts impact tests to ensure that approved helmets will protect a rider in the case of an accident. [2] Motorcyclists can find out whether their helmet complies with DOT safety standards by checking an online database.
[1] http://www.iihs.org/iihs/topics/t/motorcycles/fatalityfacts/motorcycles
[2] http://www.nhtsa.gov/people/injury/pedbimot/motorcycle/unsafehelmetid/pages/page2.htm