Common Motorcycle Accident Injuries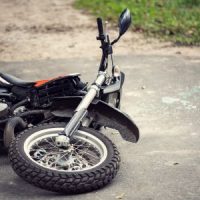 Even an accident that is considered minor, like a fender bender, can have serious repercussions if one of the parties involved is a motorcyclist. Because they are outmatched in size and weight and due to the fact that riders are so much less protected than vehicle occupants, it is almost always the motorcyclist who sustains the most serious injuries in a collision with a passenger vehicle. We've included a list of the most common motorcycle accident injuries below.
Motorcycle Accident Injuries are Serious
While some car accident victims are lucky enough to walk away from their crashes unscathed, this is rarely the case for motorcycle riders. In fact, some reports estimate that as many as 80 percent of motorcycle accidents result in an injury to the rider. Unfortunately, injuries suffered by riders also tend to be more serious, as these motorists are 30 percent more likely to sustain a fatal injury than a vehicle occupant. While injuries can range in type and severity, there are a few that tend to occur more often than others amongst motorcycle accident victims.
Head Injuries
While wearing a helmet significantly reduces a rider's chances of suffering a severe brain injury, it does not eliminate this risk. In fact, head trauma is one of the most common injuries that motorcyclists sustain. These injuries could include open or closed head injuries, fractures, concussions, and even brain bleeds. Symptoms range from confusion and nausea to chronic headaches and unconsciousness. Unfortunately, many motorcyclists who sustain these kinds of injuries suffer from permanent disability, even after obtaining treatment.
Chest Injuries
While many people know that motorcycle accident victims are at risk of sustaining head injuries, few are aware that riders are also prone to chest injuries. These injuries are typically severe, as most of our organs are housed in the torso. Blunt force impact to this area can result in punctured lungs, pulmonary contusions, and cardiac trauma. Organ damage and internal bleeding can also occur and are often the result of puncturing via a broken rib.
Lower Limb Injuries
The legs are also more prone to injury in motorcycle accidents than other parts of the body, as they are closest to the road. The lower legs, including the fibula and tibia bones are especially vulnerable, with some studies revealing that injuries to these bones account for almost 95 percent of motorcycle accident leg injuries. Injuries to the knees and thighs are also common, as are hip dislocations.
Road Rash
Road rash is a type of injury that is unique amongst motorcycle accident victims, pedestrians, and cyclists, all of whom are more likely to suffer from deep scrapes and lacerations than motorists who are safely housed in their vehicles. While the most minor forms of road rash involve the scraping away of the top layers of skin, the more severe forms can damage the tissues, muscles, and even the bones.
Here to Help with Your Motorcycle Accident Case
If you suffered a serious injury after a Georgia motorcycle crash, you should talk to an experienced Atlanta motorcycle accident lawyer as soon as possible. Call Shiver Hamilton Campbell at 404-593-0020 to set up a meeting with a member of our legal team today.
Sources:
one.nhtsa.gov/people/INJURY/PEDBIMOT/MOTORCYCLE/motorcycle03/index.htm
iii.org/fact-statistic/facts-statistics-motorcycle-crashes