Avoiding a Motorcycle Accident: Motorcycle Tips for Driving in the Rain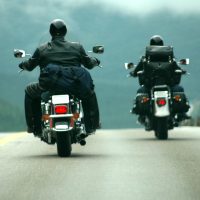 The best way to avoid a motorcycle accident due to inclement weather is to simply not ride while conditions are messy. However, there are times where riders will find themselves in situations where they have no other option but to ride through the storm. We have put together a few guidelines to help you through these conditions when you need it the most.
Traction is Crucial
As soon as the rain drops start coming down, traction becomes an issue. Wet conditions change everything, including braking distance as well as other handling scenarios. With the road being wet, it is best to SLOW down. The faster you go, the better chance there is of you hydroplaning. Also, the faster you go, the higher the lean angle, which is where a lot of problems occur in wet conditions. The more upright you are, the more safe you will be.
Dress for the Occasion
With the rain coming down hard and the visibility of your surroundings lowered, focus is critical. The last thing you need is to be freezing cold and soaking wet while trying to stay upright. Make sure to wear proper rain gear that fits snuggly and is in good shape. Also, wear bright rain gear in order to make you more visible to other drivers.
Know Your Surroundings
When surfaces become wet, possible landmines litter the landscape. It is vital to be aware of your surroundings at all times in order to avoid disaster. Possible obstacles to be aware of include:
Man hole covers
Railroad tracks
Puddles
Pot holes
Commercial and residential parking ares
Oil
If you've been seriously injured in a motorcycle accident, it's best to meet with a personal injury attorney and review your case together. Here at Shiver Hamilton Campbell we are experienced attorneys with a proven track record of success and may be able to work for you. We pride ourselves on taking a more hands on personal approach to our cases by providing our clients with legal counsel and guidance along the way, throughout the case and even after it's over.
For a more exhaustive list of guidelines, visit: SoundRider, and Motorcycle.com