Tracy Morgan Accident Heightens Scrutiny Surrounding Trucking Laws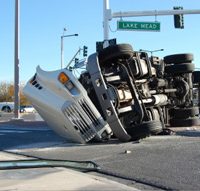 UPDATED 6/3/2015
Last week, Tracy Morgan announced his settlement with Walmart over last summer's deadly tractor-trailer crash. Morgan suffered several broken bones and a traumatic brain injury when the speeding truck crushed his limousine on the New Jersey Turnpike, killing Morgan's friend and fellow comedian, and critically injuring two other passengers. At the time of the wreck, Walmart's truck driver had not slept in over 24 hours. Criminal charges against the driver are still pending. While the terms of the settlement remain confidential, Morgan has stated that Walmart has "stepped up to the plate" and taken full responsibility for the wreck.
Although Morgan's lawsuit was resolved quickly, the larger problem persists: truck drivers are overworked, under-trained, and incentivized to drive long hours at high speeds.  Yet efforts to alleviate the hazards of driver fatigue are continually met with political resistance.  Congress recently signed a spending bill (H.R. 2577) that, among other provisions, suspends the FMCSA's "34-hour restart rule" for the second time and allows 33-foot long double trailers on interstates regardless of state laws.  The restart rule would have limited drivers to 70 hours of driving time per week, and required a 34-hour rest period once they hit that limit.  Under Congress's suspension, the rule would only be reinstated if a federal impact study can prove that the provision would result in improvements in safety, operator fatigue, driver health and longevity and work schedules.  On June 1, 2015, President Obama released a statement that the administration "strongly opposes" passage of H.R. 2577 and objected to language in the bill "preventing data-driven changes that would improve safety for all travelers by addressing truck driver fatigue."
---
Comedian Tracy Morgan's involvement in a trucking accident with a Walmart truck driver has sparked debate surrounding trucking laws in the United States. The multi-vehicle accident occurred on June 7 on the New Jersey Turnpike, leaving Morgan critically injured and fellow comedian James McNair dead. According to a preliminary report by the National Transportation Safety Board, the Walmart driver was fatigued as well as traveling over 20 mph over the speed limit along with almost being at his drive time limit.
On July 1, 2013, the U.S. Department of Transportation's Federal Motor Carrier Safety Administration (FMCSA) announced new regulations in order to reduce driver fatigue and improve safety. The new regulations set forth:
The maximum average work week for truck drivers shall be reduced from 82 hours per week to 70 hours per week.
Truck drivers who reach the maximum 70 hours of driving within a week must rest for 34 consecutive hours, including at least 2 nights from 1-5 a.m.
Truck drivers must take a 30 minute break during the first 8 hours of a shift.
However, on a 21-9 bipartisan vote in June, 2014, the Senate Appropriations Committee approved a proposal to suspend these regulations and have the federal motor carrier safety administration conduct a study to assess the rules' operational, safety, health and fatigue effects.
This hasn't been met without resistance from numerous politicians and trucking executives. Sen. Cory Booker, D-N.J., introduced an amendment to retain the trucking safety regulations.
"I am deeply concerned that truck drivers are being pushed to the absolute limits by the industry in order to make a decent wage and maintain their job security. The current state of the industry puts them in danger," Booker said.
On the contrary, Dave Osiecki, who represents American Trucking Associations, argues that the regulations needed to be suspended because they forced truckers to drive during daylight hours, which delayed shipments and clogged the nation's highways during rush hour.
"We're concerned about the safety risk; we're concerned about the productivity lost to the industry because we move America's freight. The trucking industry, whether, you know, the public realizes it or you're ubiquitous, when you go to the grocery store, the groceries are there because truckers are moving at night," said Osiecki.
If you've been seriously injured in an accident involving a tractor trailer, it's best to meet with a personal injury attorney and review your case together. Here at Shiver Hamilton Campbell, we are experienced attorneys with a proven track record of success and may be able to work for you. We pride ourselves on taking a more hands on personal approach to our cases by providing our clients with legal counsel and guidance along the way, throughout the case and even after it's over.
Sources:
http://www.cbsnews.com/news/tracy-morgan-crash-highlights-trucker-regulations/;
http://www.businessinsurance.com/article/20140720/NEWS07/307209966?tags=%7C70%7C84%7C303%7C312#
http://www.fmcsa.dot.gov/newsroom/new-hours-service-safety-regulations-reduce-truck-driver-fatigue-begin-today
http://www.cnn.com/2014/07/12/showbiz/tracy-morgan-crash-lawsuit/
https://www.congress.gov/bill/114th-congress/house-bill/2577
http://www.nytimes.com/2015/05/28/nyregion/tracy-morgan-and-walmart-settle-suit-over-fatal-crash.html