Motorcycle Accidents: 4 Tips to Reduce Your Risk and Improve Your Safety.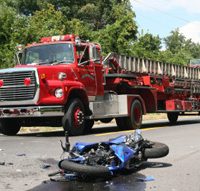 There are general rules of the road which all motorists must adhere too. Motorcyclists also have additional safety rules which they must follow. We have created a list of some general safety guidelines for motorcyclists and other drivers, which we believe, could help mitigate many potential accidents involving motorcycles.
4 Ways You Can Reduce Your Risk of Being Involved in a Motorcycle Accident:
Take some lessons or get training before you ride on public roads.
Many motorcyclists are either self-taught, or instructed by family or friends, consequently a major factor that contributes to motorcycle accidents is driver inexperience. To reduce your risk of being involved in a motorcycle accident, consider enrolling in a driving class or at least reading some of the material provided by the Georgia Department of Driver Services Motorcycle Safety Program.[1]
Visibility is key.
Make sure you are able to be seen and can see. Most accidents occur because either the motorcyclist is unseen by other motorists on the road or the motorcyclists does not see the other motorists. We suggest you wear bright colors, ride a brightly colored bike, as well as utilize a reflective helmet and clothing to increase visibility at night.
Wear a helmet.
In Georgia ALL operators and passengers on motorcycles MUST wear a helmet at all times when the motorcycle is being used in Georgia (except in some situations where a passenger is in an enclosed cab or motorized cart).[2] Notably, these helmets must meet the Georgia Commissioner of Public Safety's approved standards for motorcycle helmets. But even if you were not required to wear a helmet you really should because wearing a helmet is akin to wearing a seatbelt when driving or riding in a car.
Adhere to the speed limits, and take extra caution when riding in bad road conditions or on undivided highways.
While it may seem that speed limits are a polite suggestion, the truth is the numbers on those signs are not by chance so cops can give tickets. The truth is those numbers are the result of many numerous calculations and experiments by experienced engineers, and those engineers determined what speeds are safe to drive on those roads during most conditions. If you ride at excessive speeds you not only increase you chance of getting a ticket you also endanger not only yourself but those around you, especially when you consider that unlike a car your shifting weight can displace the bike's alignment causing you to fall, so please use caution. The more precautions and knowledge you have of the roads you drive the better chance you have of staying safe.
This list is by no means exhaustive, but it is a good starting point. If you've been involved in a motorcycle accident knowing which law applies and what to look for can be the difference between recovering what you deserve and the other driver getting away without any penalty. Here, at Shiver Hamilton Campbell we have vast experience in the motorcycle accident claims and may be able to work for you.
[1] http://www.dds.ga.gov/docs/forms/motormanual.pdf
[2] O.C.G.A. § 40-6-315