Obtaining A Car Accident Report In Georgia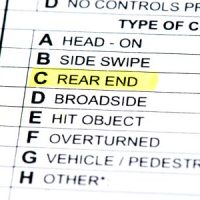 Although car accident victims aren't always technically required to report their collisions, doing so is usually strongly encouraged. By contacting law enforcement, the parties involved can ensure that the proper authorities will begin an investigation. Eventually, the details of the officers' findings will be included in a car accident report that the parties can use at a later date to determine liability and damages.
What is a Car Accident Report?
Car accident reports are created by the police officers who respond to the scene of a crash. These reports contain an unbiased description of how a collision happened, noting details about:
The date, time, and location of the collision;
The contact and insurance information of the parties involved;
The vehicles involved, including their resting positions and the degree of damage sustained;
The parties' injuries;
Any statements made by the drivers or passengers;
The weather or road conditions at the time of the crash;
The contact information of any eyewitnesses; and
Whether either of the parties violated a traffic law prior to the collision.
Perhaps most importantly, car accident reports will often contain the responding officer's opinion on the cause of the collision. Because they are written by neutral third parties, these reports tend to hold a lot of weight when an insurer attempts to determine who was responsible for the crash.
When Do I Have to Report an Accident?
Under Georgia law, a person is legally required to report an accident to the police if the crash involved:
A personal injury;
A death; or
Property damage exceeding $500.
While some minor collisions won't require contacting the police, most do, as the cost of repairs, even for less serious damage, can quickly exceed this minimum. Once an accident has been reported, the police will come to the scene, investigate, and then create a car accident report. There are a few ways to obtain a copy of this report.
How Do I Obtain a Copy of a Car Accident Report?
When attempting to obtain a copy of their car accident report, accident victims can:
Request one directly from the police department that prepared it (once five days have passed);
Ask for a copy from the Georgia State Patrol by submitting a request form to the open records unit; or
Purchase a copy from a third party accident report website, which will require the party's VIN or the accident report number.
All of these options will require a payment of between $10 and $20. Having to pay for a copy should not, however, deter accident victims from obtaining their accident reports, as these records could prove to be the determining factor in whether an insurer makes a settlement offer.
Reach Out to Our Dedicated Atlanta Car Accident Legal Team
An experienced Atlanta car accident lawyer knows the significance of an accident report to an insurance claim or personal injury case. For help starting an investigation into your own crash, which includes obtaining a copy of your accident report, don't hesitate to call Shiver Hamilton Campbell at 404-593-0020 today.
Sources:
law.justia.com/codes/georgia/2010/title-40/chapter-6/article-12/40-6-273/
dps.georgia.gov/ask-us/how-do-i-submit-open-records-request