The Most Dangerous Intersections In Atlanta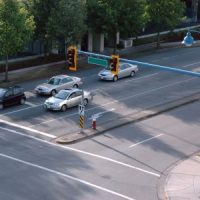 Navigating an intersection safely requires caution from drivers, cyclists, and pedestrians alike. Even a single moment of inattention or reckless behavior could result in an accident. Unfortunately, this occurs in intersections more often than most people realize. Furthermore, the accidents that take place in these intersections tend to result in particularly severe injuries, some of which even prove fatal. In fact, according to the Department of Transportation, more than half of all crashes in the U.S. occur at or near intersections. The intersections in the Metro Atlanta area are notorious for being especially hazardous.
Remain Vigilant at These Atlanta Intersections
Metro Atlanta is a bustling area, so it should come as no surprise that the roadways are almost always busy. Unfortunately, with more cars on the road comes a higher risk of being involved in a car crash. This is especially true at intersections, a few of which are well-known for being particularly dangerous. These areas include the intersections at:
Memorial Drive and North Hairston Road in Stone Mountain;
Jimmy Carter Boulevard and Peachtree Industrial Boulevard in Norcross;
East Park Place and Stone Mountain Highway in Stone Mountain;
Cobb Place Boulevard and Ernest W Barrett Parkway in Kennesaw;
Butner Road and Camp Creek Parkway in South Fulton;
Steve Reynolds Boulevard and Venture Drive in Duluth;
Covington Highway and Panola Road in Lithonia;
State Bridge Road and Medlock Bridge Road in Johns Creek; and
State Road 316 and Harbins Road in Dacula.
Accidents at these intersections are common in Metro Atlanta, making it especially important for drivers, cyclists, and pedestrians to use extra care when driving in these areas.
Tips for Staying Safe on Atlanta Roads
There are steps that motorists can take to help protect themselves when driving in Atlanta, including:
Obeying the speed limit, as speeding reduces the space where an accident can occur and increases the severity of a collision;
Slowing down when approaching intersections in case a vehicle suddenly enters the intersection;
Avoiding distractions, like using a cell phone or an electronic device;
Obeying all traffic laws, including signaling before turning and changing lanes;
Practicing defensive driving by maintaining a safe distance from other vehicles and remaining vigilant for activity on the road ahead; and
Checking blind spots when turning or changing lanes.
Motorcyclists and bicyclists can also take precautionary measures to avoid an intersection accident, including wearing a helmet, driving defensively, and wearing bright clothing with reflective materials. Pedestrians, on the other hand, should avoid walking at night, always try to cross the road at designated crosswalks, and obey all traffic signals.
Call for a Free Consultation
Unfortunately, even the most careful driver, cyclist, or pedestrian could end up injured in an intersection accident because of someone else's negligence. In these cases, the injured party could be entitled to compensation for his or her losses. To learn more about seeking damages after your own intersection accident, please call 404-593-0020 and set up a meeting with the dedicated Atlanta car accident lawyers at Shiver Hamilton Campbell today.
Sources:
highways.dot.gov/research/research-programs/safety/intersection-safety
ajc.com/news/local/are-these-metro-atlanta-most-dangerous-intersections/95RdOnlGKvzU23WWQkj6rO/