Crosswalk Accidents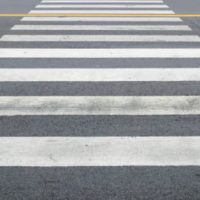 Crosswalks play a critical role in providing pedestrians and cyclists with a safe place to cross busy roadways without fear of injury. Unfortunately, a lot of drivers ignore these rules, which can have devastating consequences for pedestrians, who are much more likely to sustain catastrophic injuries in the event of a collision.
Crosswalk Traffic Rules
Georgia law requires all drivers to stop and allow pedestrians to cross the road at marked crosswalks, making it illegal for drivers to attempt to drive around, squeeze by, or cut off pedestrians who are using a crosswalk. This is also true for vehicles approaching other cars from the rear when the latter are stopped at a marked crosswalk. Unfortunately, a lot of drivers disobey, or are unaware of these rules, putting pedestrians at serious risk of injury.
Crosswalk Accident Injuries
The type and severity of the injuries that a pedestrian sustains in a crosswalk accident will depend on a variety of factors, including:
How fast the car was driving before the crash, with higher speeds resulting in more serious blunt force trauma injuries;
The victim's age, with children being more likely to sustain chest, abdominal, and head injuries, while adults are more prone to musculoskeletal injuries; and
The size of the vehicle, with taller vehicles posing the most danger, as they tend to strike pedestrians above their center of gravity.
Fortunately, injured pedestrians who can prove that a negligent or reckless driver was responsible for their crash, could recover damages compensating them for medical bills and other losses.
Establishing Fault for a Crosswalk Accident
Even if a driver violated a Georgia traffic law and caused a crosswalk accident, the injured party will still need to provide proof of that negligence by:
Obtaining a copy of the police report, which should note whether the driver violated the right-of-way rules;
Taking photos at the scene of the accident, which will show not only vehicle damage, but also things like skid marks (i.e. whether the driver tried to brake);
Obtaining statements from eyewitnesses, who can testify as to whether the injured party was in a crosswalk at the time of the crash, whether the signals were working, and how fast the at-fault motorist was driving; and
Obtaining expert testimony from reconstruction specialists who can examine the scene of the accident, as well as the vehicle's data recorder.
Besides being able to prove fault for the accident, victims will also need to provide evidence of their losses, including their bills for diagnosis and treatment of their injury, as well as tax returns and pay stubs detailing their loss in wages.
Experienced Atlanta Pedestrian Accident Lawyers
At Shiver Hamilton Campbell, our team of attorneys and support staff are dedicated to helping accident victims throughout Georgia recover the compensation that will help them move on with their lives. To schedule a free evaluation of your own case, call our experienced Savannah pedestrian accident lawyers at 404-593-0020 or reach out to us via online message.
Sources:
law.justia.com/codes/georgia/2020/title-40/chapter-6/article-5/section-40-6-91/
ncbi.nlm.nih.gov/pmc/articles/PMC2859736/