Wide Turn Truck Accidents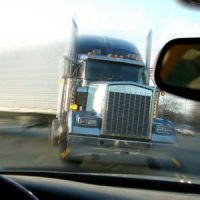 Commercial vehicles are not only much heavier, but are also taller, wider, and longer than most passenger vehicles. The average semi-truck trailer, for instance, is more than 70 feet long. This massive length is partly why these kinds of trucks are so difficult to maneuver, especially when turning right. Unfortunately, their sheer size and lack of maneuverability can prove dangerous for other road users, who could end up involved in a devastating crash.
Types of Wide Right Turn Crashes
Before even attempting a right hand turn, trucks must first swing to the left, as their turning radius is so large. As a result, they often take up two or more lanes, which can be risky when other cars are present. For instance, a person may try to pass a truck on the right, not realizing that the driver is swinging left before making a right hand turn. In these situations, the smaller car could get trapped between the truck and the curb. A truck making a wide right turn can also be dangerous when:
The truck's driver is turning onto a two-lane road and veers into oncoming traffic;
A truck's driver swerves into an adjacent lane to complete a turn, thereby cutting off other drivers; or
The truck driver is speeding or turns too sharply, resulting in a rollover accident.
All of these scenarios can result in serious injuries for the occupants of the smaller car, including everything from broken bones and head trauma to internal injuries and spinal cord damage.
Truck Driver Liability for Wide Turn Accidents
Driving commercial vehicles requires specialized skill and a lot of experience. Unfortunately, truck drivers don't always use the care that they should, which can have devastating consequences for others on the road. Examples of the types of negligent actions that can cause wide turn accidents include:
Speeding;
Failing to use a turn signal;
Failing to check blind spots;
Driving while distracted;
Driving while under the influence; or
Violating traffic signs or signals.
When an injured party can provide evidence of this type of careless driving, the at-fault truck driver could be held liable for the resulting injuries. The truck driver's employer could also be forced to cover a victim's damages if it failed to train its drivers, or didn't maintain its vehicle's turn signals. Another driver could even be held partially liable for a wide turn accident if he or she caused a multi-car pile-up by attempting to squeeze into a nearby lane.
Reach Out to Our Dedicated Legal Team for Help
If you were hurt in a truck accident, you could be entitled to compensation for your medical bills, lost wages, vehicle damage, and pain and suffering. For help navigating the aftermath of your own crash, call the experienced Atlanta truck accident lawyers at Shiver Hamilton Campbell today. You can set up a free consultation with a member of our legal team by calling our office at 404-593-0020 or by completing one of our brief online contact forms.
Sources:
fmcsa.dot.gov/ourroads/wide-turns
trucksmart.udot.utah.gov/wide-turns/