Georgia U-Turn Accidents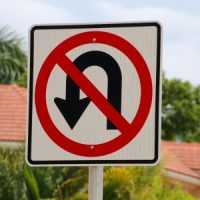 A driver's violation of Georgia traffic laws can affect accident liability in the event of a collision. If, for instance, someone ran a red light and caused a t-bone accident, then that traffic violation would play a significant role in establishing that driver's negligence. The same goes for u-turn accidents, with injured parties often able to recover compensation for their losses if they can prove that the other driver made an unsafe or illegal U-turn. For help determining the cause of your own car crash, reach out to our experienced legal team today.
U-Turn Laws in Georgia 
Under Georgia law, drivers are only allowed to make a u-turn if doing so can be achieved safely and without getting in the way of oncoming traffic. Motorists are also barred from making u-turns in certain situations, including when:
Driving on a curve or any stretch of road that approaches or is near the crest of a hill; and
Driving on a stretch of road or highway with signs that prohibit the action.
Motorists who violate these laws, either by making a u-turn in a prohibited area, or by doing so when it isn't safe, can be held liable for any resulting accidents. Injured claimants who can provide proof of such an action could be entitled to damages for injury-related medical expenses, lost wages, property damage, pain and suffering, and wrongful death.
Liability for Georgia U-Turn Accidents 
Accident victims who can prove that their crash was the result of an illegal u-turn could recover damages based on the legal theory of negligence per se. This legal principle states that certain actions, like violating a traffic law, automatically qualify as negligent, as those laws were specifically put in place to prevent accidents. However, providing supporting evidence to establish that a driver committed a u-turn violation can be a bit complicated. This is partly due to Georgia motorist's lack of access to traffic camera recordings. Fortunately, there are other ways to prove that an illegal u-turn was the cause of a crash, including:
Eyewitness testimony;
Photographs from the scene of the accident;
Testimony from accident reconstruction specialists; and
Video recordings from nearby security or dashboard cameras.
To learn more about the types of evidence you'll likely need if you decide to pursue an accident claim after a u-turn collision, reach out to our legal team today.
Legal Help for Marietta Car Accident Victims
While it may seem clear that the person who made an illegal u-turn should be held liable for a resulting accident, proving liability isn't always easy, which is why so many accident victims reach out to experienced lawyers for help. At Shiver Hamilton Campbell, our dedicated legal team of Atlanta car accident attorneys and support staff can investigate the cause of your accident and if possible, help prepare a case against the at-fault driver who caused your crash. Call us at 404-593-0020 or send us an online message to set up a free consultation.
Sources: 
law.justia.com/codes/georgia/2010/title-40/chapter-6/article-6/40-6-121 
atlantanewsfirst.com/2022/12/14/78-year-old-woman-dies-after-trying-make-u-turn-athens-clarke-county/