Filing An Incident Report Can Help Your Slip And Fall Claim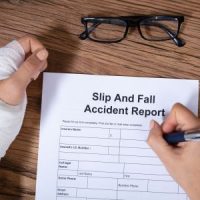 Property owners who invite others on to their premises must take steps to keep that property safe and those who fail to do so can be held liable for an accident victim's damages. Proving negligence on the part of the property owner can, however, end up being more difficult than expected. Fortunately, there are a few steps that slip and fall accident victims can take to help strengthen their claims and their chances of recovery, one of which is to file an incident report immediately after the accident.
How Filing an Incident Report Can Strengthen Your Claim 
The most important thing that an injured party can do after slipping and falling on someone else's property is to seek immediate medical attention. Besides ensuring that an injured party receives treatment as soon as possible, taking this step early in the process can also help establish a link between a particular injury and a specific accident. Once medical attention has been sought, however, a slip and fall victim should consider filing an incident report with the property owner. This document can serve as proof that an accident occurred and can help prevent disputes about the details of that slip and fall accident.
Information to Include in an Incident Report 
Many property owners have a boilerplate incident report form that accident victims can fill out. These forms should require certain information, including:
The victim's name and contact information;
The date, time, and location of the accident;
The names and contact information of witnesses who saw the accident; and
A description of what happened on the date in question, including whether there were any hazards that contributed to the fall.
Slip and fall victims should be sure to ask for a copy of this report after they fill it out. Having proof that this report was made can help establish that an injured party took all the right steps after an accident. It can also help keep a property owner honest and discourage him or her from fabricating details of the accident down the road.
Other Incident Reports 
Filling out an incident report also helps create a record of a property owner's negligence. An accident victim could, for instance, seek copies of earlier incident reports, which could reveal that a property owner had a habit of keeping unsafe premises. Earlier reports can even be used to establish that a property owner knew of the dangerous hazard in question before an accident occurred, but failed to address it, even though someone had already been hurt in a similar fashion.
Were You Injured in a Slip and Fall Accident? 
If you were hurt on someone else's property, you could be entitled to damages for your medical bills and lost wages. To learn more about the steps you can take after your accident to strengthen your slip and fall claim, feel free to call our Atlanta personal injury lawyers at Shiver Hamilton Campbell today. Contact us online or call our office at 404-593-0020 to set up your free consultation.
 Sources: 
nycbar.org/get-legal-help/article/personal-injury-and-accidents/premises-liability/
law.justia.com/codes/georgia/2010/title-51/chapter-3/article-1/51-3-1