Common Causes Of Bicycle Accidents In Atlanta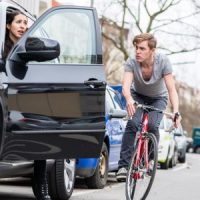 Biking has become an increasingly popular pastime for many Georgia residents, who may use it as a form of transportation or just to get exercise. Unfortunately, bicycles offer little physical protection to riders, who are at risk of sustaining serious injuries in the event of a collision. Bicycle accidents can occur for a variety of reasons, but most can be attributed to one of a few specific causes. Read on to learn more about the most common bicycle accident causes in Georgia and what you can do to prevent them.
Distracted Driving
Distracted driving is always dangerous, but has proven to be especially perilous when bicyclists are involved. This is largely due to the fact that the injuries sustained by cyclists tend to be much more severe than those suffered by vehicle occupants. Unlike motorists, bicyclists don't benefit from the protection of seat belts or airbags, or even a barrier between themselves and the road. Any type of distraction that takes a driver's eyes off the road, hands off the wheel, or mind off of driving could result in a devastating collision for a passing cyclist.
Failing to Check Blind Spots
Bicycle accidents often occur as a result of a driver's failure to check his or her blind spots before turning or changing lanes. Because bicycles are so much smaller than standard passenger-sized cars, it is not uncommon for them to be completely lost in a blind spot, which is why it is so important for motorists to check these areas carefully before merging. Walls, buildings, trees, and other objects can also create blind spots that obscure a driver's view, especially in parking lots and driveways, so drivers should be sure to check their blind spots, even when they aren't on the road.
Dooring Accidents
One of the most common types of bicycle accidents is known as a dooring collision and occurs when a car is parked on the side of the road and a motorist opens his or her door into the path of an oncoming cyclist. These kinds of accidents tend to result in a lot of property damage and significant injuries. Fortunately, they are easy to prevent if drivers and passengers keep a careful eye out for riders headed in their direction before they open their doors.
Bicycle Defect
Some bicycle accidents aren't the result of driver or cyclist error, but of a defect in the bicycle itself. For instance, faulty brakes or another defective component, like the bicycle chain, could cause a cyclist to lose control of the bicycle or be unable to stop. When a design or manufacturing defect causes a collision, either with a driver or another object, the cyclist could file a claim against the bicycle's manufacturer, seeking compensation for medical bills, lost wages, and property damage.
Speak with an Atlanta Bicycle Accident Lawyer
If you or a loved one were involved in a bicycle accident in Georgia, the dedicated Savannah bicycle accident attorneys at Shiver Hamilton Campbell could be able to help. Contact our office at 404-593-0020 for a free case review.
Sources:
nhtsa.gov/road-safety/bicycle-safety
cdc.gov/transportationsafety/bicycle/index.html