Attorney Spotlight – Daniel Beer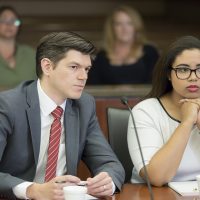 The next installment of the Shiver Hamilton Campbell Attorney Spotlight series takes a look at Shiver Hamilton Campbell trial attorney Daniel Beer. Daniel grew up in Marietta, Georgia, and graduated from Sprayberry High School, where he was Class President and captain of the soccer team. From there, he went to the University of Georgia, where he majored in Political Science and History. Daniel graduated from the honors program with highest honors, was a member of the Arch Society, and the Vice President of the University Union. A "Double Dawg," Daniel remained at UGA for law school, where he was a member of THE Law Review, the negotiation competition team, the treasurer of the Equal Justice Foundation, and was A Teaching Assistant for a Constitutional Law professor. Daniel also spent a great deal of time studying abroad during law school, completing the UGA at Oxford program in Oxford, UK, a UGA Law/China study abroad program, and internship in New Delhi, India.
After graduating cum laude from UGA Law, Daniel spent 4 ½ years as an associate at Weinberg, Wheeler, Hudgins, Gunn & Dial. At Weinberg, Wheeler, Hudgins, Gunn & Dial, Daniel focused on premises liability defense, trucking, and commercial real estate litigation. He also served as an assistant national coordinating litigation counsel for the largest special loan servicer in the US. While practicing as a defense attorney, he gained an immense amount of insight and experience. Eventually, Daniel decided that he wanted to use that experience to help injured individuals gain access to an often-complicated justice system. In joining Shiver Hamilton Campbell, he saw an opportunity to work with and learn from some of the most talented trial attorneys and legal professionals in the state of Georgia.
Since joining Shiver Hamilton Campbell in March 2015, Daniel has had numerous opportunities to further his goal of championing the legal rights of underserved populations. Most recently, he was one of the attorneys who helped to obtain a $20 million jury verdict in a case where a father of three died in an apartment complex as a result of inadequate security. This case was particularly rewarding for Daniel, because holding negligent landlords accountable, helps create safer environments for families in apartment complexes all over Georgia. Daniel is proud that this case sent a strong message that landlords have a responsibility to prevent their properties from being overrun with crime, and that regardless of a family's income or national origin, Georgia law will protect their right to live in safety.
Daniel lives in the Virginia Highlands with his wife, Dr. Gina Beer, who is a veterinarian at Paces Ferry Vet Clinic in Vinings, and his daughter Margo. The Beer Family is also expecting a new baby girl in 2017!