Dash Cam Footage in a Collision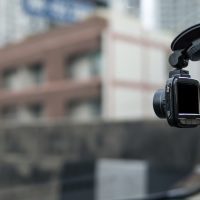 It has long been common for commercial drivers and common carriers to use dashboard-mounted cameras (or "dash cams") to document evidence in potential accidents, record interactions with passengers, deter insurance fraud, and collect evidence in the event of a vehicle break-in.  But as individual use of dash cams is on the rise, questions arise over their value for the average citizen.   The ability to monitor a teenager's driving may be appealing to many parents.  And of course, in the event of an accident, objective video footage of the collision and the events leading up to it can be useful.  Generally, more evidence is better when it comes to determining fault in a wreck.  
Internationally, the use of dash cams is much more prevalent than it is in the U.S.  In Russia, where the traffic fatality rate is nearly twice that of the U.S., nearly everyone uses a dash cam.  [1]  This is largely an effort to prevent insurance fraud.  Insurance companies in some countries, including the U.K., are beginning to provide discounts to insured drivers with dash cams. [2]  While some U.S. auto insurance providers offer discounts to drivers who keep a gps device in their cars to monitor speed and other driving statistics, no U.S. insurers currently provide discounts for the use of a dash cam.
The usefulness of the footage can be limited by the quality, range, and angle of the video.  Many factors play into a collision, and a dash cam only offers information from one vantage point.  Personal dash cam footage does not replace the need for a police officer's investigation and report.  Further, drivers should be mindful of the size and placement of dash cams, as the camera's installation could obstruct a driver's view of the road.  However, as dash cams become more affordable and more drivers become aware of their usefulness, it is likely that dash cams will become more prevalent on U.S. roadways.
---
If you or a loved one has been involved in an automobile collision, you may need an expert. Knowing where to turn and who to hire as your attorney can be the difference between recovering what you deserve and having your claim denied by an insurance company.  
Here, at Shiver Hamilton Campbell we have substantial experience handling car accident claims and may be able to work for you. We pride ourselves on taking a more hands on personal approach to our cases by providing our clients with legal counsel and guidance along the way. Call us at (404) 593-0020 or contact us online for a FREE consultation. www.ShiverHamilton.com.
[1] http://www.wired.com/2013/02/russian-dash-cams/