Filing an Insurance Claim After an Uber Accident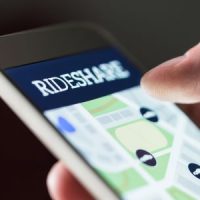 The use of rideshare services, like Uber, has become widespread, especially in urban areas like Atlanta, where increasing traffic has made driving and parking in the city much more complicated than it used to be. While these services can provide a cost-effective way of getting around, they are not without their risks, as anyone who has been involved in an Uber accident can tell you. Fortunately, those who are injured in these types of accidents often have a number of options when it comes to seeking compensation for their losses. These options, however, will vary depending on the specific circumstances of the accident, including whether the driver was en route to pick up a passenger or already transporting one.
Insurance Options for Passengers 
As you might expect, Uber is heavily insured. In fact, Uber carries a $1 million third party liability policy that covers passengers who are injured while being driven by an Uber driver. The company also offers uninsured/underinsured motorist bodily injury coverage for passengers who are injured as a result of another driver's actions. In most cases, an accident victim will file a claim directly with Uber itself, rather than the driver, unless another driver was the cause of a crash. In those cases, the injured party can file a claim directly with the at-fault driver's insurance. If, however, that driver's insurance isn't enough to cover a victim's losses, then Uber's uninsured/underinsured policy could kick in to cover the difference.
Insurance Options for Other Drivers 
Those who are injured in accidents with an Uber driver, but who were not passengers at the time can still seek compensation from the at-fault driver. The types of policies that an injured party can seek coverage under, however, will depend on whether the driver was waiting for a fare, on the way to pick up a passenger, or actively transporting a passenger at the time of the crash. If, for instance, the Uber driver's application was offline, then he or she won't be covered by Uber's insurance at all and the injured party will need to file a claim directly with the driver's personal insurer. Drivers who are waiting or available for a ride request, on the other hand, are covered up to:
$50,000 for bodily injury per person;
$100,000 for bodily injury per accident; and
$25,000 for property damage.
If, however, the Uber driver was on the way to pick up a passenger, or was already transporting a passenger when the accident occurred, then any other drivers involved in that collision could seek coverage under the company's $1 million policy.
Get the Legal Help You Need After a Georgia Rideshare Accident 
If you were injured in an accident with an Uber driver, you could be entitled to compensation for your medical bills, lost wages, and other losses. For help filing your own claim with the proper insurers, call the dedicated Atlanta Uber and Lyft car accident lawyers at Shiver Hamilton Campbell today. You can reach us at 404-593-0020 or via online message.
Sources: 
uber.com/us/en/drive/insurance/
oci.georgia.gov/insurance-resources/auto